November 18th, 2005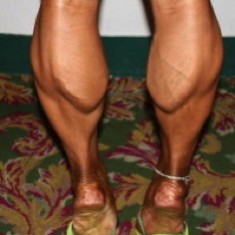 Funnily enough I haven't gotten to use that expression ever in English nor in any other language. I just Googled "my what big calves you have" and it isn't used on any other webpages either. Another first for Muskblog!
Update: This post is still too dubious and too popular, if you are looking for #fitspiration or pictures of fit people might I suggest Pinterest.
I never knew there were so many people obsessed with women's or even men's calves. This website ended up ranking too well for calves and other anatomy related keyword referrals. This post also attracted some strange and disturbing comments. It isn't easy being a blogger sometimes. I heavily edited this post over the years and removed many dubious comments.
I think this post used to have more pictures, but I took most of them down. Sometimes it is better not to look at your referral logs too carefully, nor see what other websites rank for strange keyword referrals. Discussions about calf size pop up in strange places, like the Okay Player discussion board…
I've mostly learned my lesson about finding images online and then reposting them to my blog. There are still some dubious images on Muskblog, I still remember all the trouble I had with hotlinkers. At some point someone put up a website called "Girls With Muscle" whose members scour the internet for pictures of women showing off their muscles online. They linked to one of my dubious blog posts. Some of the photos on that website are probably copyright, all of them are probably copyright someone other than who posted them to that website. Another reason to resist posting dubious images is copyright law, lawyers aren't the funnest people to deal with in the blogosphere I assure you.
Pinterest, Tumblr, Instagram, all the latest Web 2.0 darlings are used to share images found online. Go scour those websites and leave strange disturbing comments there, they all have functionality to block people the best I can do is mark your comment as spam.
Calves are Surprisingly Popular
This blog posting is still one of my top 10 blog postings in terms of popularity on a monthly basis, I'm not sure why, it has less pictures now, there are a lot more images online than there were in 2005, Instagram and Pinterest being two places where #gymselfies and #fitspiration can be found easily. At some point while living in Shanghai I got talked into returning to Instagram and I even got guilted into posting my first gym selfie. I even got challenged to train calves because mainly I don't. Mainly I'm trying to get smaller not bigger, but seeing as the obsession online with calves is real and I feel some guilt over some of my past blog postings, here is a picture of my calves taken after spinning class.
This entry was originaly posted on , it was last edited on and is filed under: The Good, The Bad, & The Ugly and tagged: Calves, Keyword Referrals, 健美.