December 27th, 2005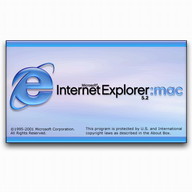 That is the new official policy here at Muskblog.
Bolstered by the news that Microsoft is no longer going to put out a version of Internet Explorer for the Mac and that they will no longer even support the version that they previously shipped, I've decided I'm no longer going to worry how my blog looks on their browser.
I can't guarantee my HTML/CSS is perfect but it is pretty damn good. All the other major browsers seem to have no trouble rendering my WordPress theme. I didn't even know I busted it in IE until my Mac died.
So from now on I will not waste another moment of my life worrying how my blog looks in IE even if my various web statistics programs seem to indicate it is still the most popular browser on the net. Muskblog is meant for "influentials" anyway not the common masses.
So if you are using a Mac you should definitely not be using IE 5.2, it is old and well past its prime. If you are not smart enough to use a Mac you shouldn't be using IE either. Besides the fact it doesn't seem to render my blog correctly it has numerous security vulnerabilities. If you like plugins and open source you should be using Mozilla/Firefox but if you like speed and accuracy I recommend Opera it is my preferred browser though I'm using Firefox more and more.
This entry was originaly posted on , it was last edited on and is filed under: Information Technology and tagged: Blogging, CSS, HTML, Internet Explorer, WordPress.