April 19th, 2006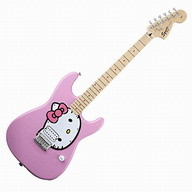 While in China I got some Larrivee guitar stuff for my guitar teacher. This is a cool Canadian guitar manufacturer on the West Coast. However today while channel surfing I learned of another interesting Canadian guitar manufacturer from the East Coast; Garrison Guitars.
When I get a job, I want to buy a nice guitar. I've been playing on budget guitars for years. I'm almost decent, I figure I should get a decent guitar, instead of one made in Indonesia. I haven't been able to practice much lately. Huuna doesn't like it when I play guitar, she figures I should play with her instead. Fred is much better for my guitar playing, he'll just sit there beside me on the sofa.
This entry was originaly posted on , it was last edited on and is filed under: Canada and tagged: Canadian, Garrison, Guitar, Larrivee.