June 1st, 2006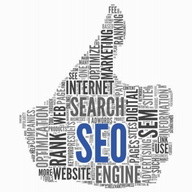 Here are the top ten keyword phrases that sent surfers to my blog according to Webalizer.
huge calves
sandy vu
tess yong
big tits blog
yumi sekine
korean girls
wlanapi.dll
amy yanagisawa
young kim
a3ab9x.sys
It is hard not to notice all the female Asian names or big tits blog. I briefly was ranked in the top ten by Google for the latter phrase. The postings where these phrases occur are now my top three postings at least based on search engine traffic. Someone even commented recently asking if anyone knew of a site specializing in "Asian girls with big calves wearing stockings?"
This possibly isn't the most controversial stuff I have posted, but as I've said before porn powers the internet so it is what gets the most search engine traffic. With the recent NY Times and Slashdot debate on blogging being detrimental to your career. I googled myself again, I'm OK with the results though that failed presidential candidate is always mixed in with my stuff. Also for the record, I am not a fish.
Another blog I follow regularly SEO Blackhat put up its own list of popular referrals for the month of May. He also documented a new type of spam going around. I haven't had many problems with comment spam, either my blog is too small to bother about or the way I set things up has remained secure against spam for the most part.
This post just keeps growing… While making my rounds through my blog links, I learned of Stalkerati. Jared Kim whipped this site up in two hours on May 1st 2006. It is your one stop shop for investigating people. I'm sure employers could save some time by using this site, though it runs pretty slow. I stalked myself, the first person to do so.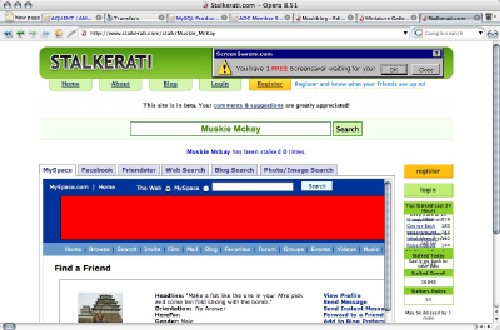 Note it defaults to searching MySpace.com first, showing the importance that site has taken in a certain age group.
Update December 2015
I've continued to edit old blog posts in an attempt to improve my taxonomy and thus my search engine performance as well as the performance of Yet Another Related Post Plugin. This is a long forgotten blog post but it might be one of the early ones when I list keyword referrals, hard to believe I was once in the top ten for "big tits blog" this is what happens when you make bad jokes online and know how to do search engine optimization. Of course actual pornographers and spammers have infested the blogosphere and the real hashtag optimization obsession has spread to Twitter or Instagram. I don't really use the latter, but I'm starting to use more hashtags in my tweets, I may yet regain some of my lost popularity, having hundreds of old blog posts that I can update might help or it could have been another colossal waste of time.
Advancements have also been made in stalking or creeping online with often disastrous results. I myself just stay away from hurtful people and I try to rebuild my life, I definitely took down unflattering content, but some still remains because I value the truth even if it is ugly.
This entry was originaly posted on , it was last edited on and is filed under: Information Technology and tagged: Analytics, Blogging, Creeping, Keyword Referrals, MySpace.