January 4th, 2007
Now I've written about LinkedIn.com and online social networks before, but once again I returned to the site after a few days or weeks absence and I noticed a few new things. One is the addition of LinkedIn Answers both to the homepage and as a new navigational tab. This prominent new feature which allows you to poll your extended network for help and advice is not without its' liabilities. Some people have taken to 'spamming' or posting less than well thought out queries, there are even threads online already on how to prevent this.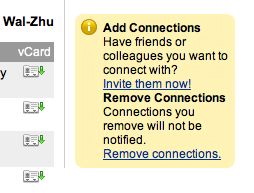 Presumably people who become a problem will find their network shrinking, which leads to my next observation. When looking through my contacts I noticed that in addition to invitations for me to add more additional contacts was a text box and link showing me how to remove a contact. This is something I'd looked to do before and is a common feature of online social networks. There is no reason a business relationship can't blow up spectacularly right down to petty acts of retribution.
Sad but true.
This entry was originaly posted on , it was last edited on and is filed under: Information Technology and tagged: LinkedIn, Networking, Online Reputation, Online Social Networks.