June 30th, 2008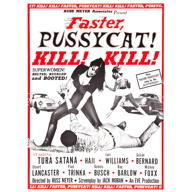 I don't follow all the Hollywood rumors very carefully. I try to let people make the movies then go and see them or rent the DVD. I don't even like to watch trailers online, often they give away too much of the movie. But today when I read Quentin Tarantino is going to remake Russ Meyer's most famous film I thought I'd blog about it.
Leonard Maltin turned me on to Russ Meyer, Roger Ebert is an admirer and wrote the screenplay for Beyond the Valley of the Dolls. I saw "Faster Pussycat, Kill! Kill!" when it was re-released at UVIC's movie theater.
I wonder if Matthew Sweet will be on the soundtrack.
I wonder if I'll be considered a shiny new psycho for writing about this film.
This entry was originaly posted on , it was last edited on and is filed under: The Arts and tagged: Cinema, Leonard Maltin, Quentin Tarantino, Roger Ebert, Russ Meyer.