August 17th, 2008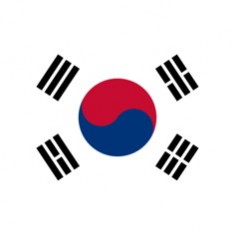 On the day Canada wins it's first Gold Medal at the Beijing Olympics, I also read that a Korean woman won gold in weightlifting, beating the heaviest Olympic weightlifter man or woman Olha Korobka. Chinese women had been dominating woman's weightlifting but chose not to enter an athlete in 장미란/Jang Miran's weight class. IOC rules only allow a country to enter four women so Chinese officials chose to enter weight classes they were more confident in winning a gold medal.
Update: This post became way too long and way too popular with way too many images I reposted without owning the copyright for, there is a website that excels at this type of thing now, it is called Pinterest and many images like this are posted there.
There has been a lot written about Chinese dominance in certain women's events. I once wrote about Chinese sports schools and how some Chinese women are very strong pound for pound. Even Chinese officials admit that their women are used to suffering and combined with the extreme training of their athletes from an early age could lead to the great Chinese gold rush officials envisioned eight years ago when Beijing won the right to host the 2008 Games.
Today I also watched the Woman's marathon. Beijing looks a lot different than when I lived there. China had two athletes chasing the leader, but in the end won just a bronze. I should probably dig up some photos of various Olympic athletes and other fit Asian women for the folks who seem to Google those images exhaustively. I should also probably find a Japanese lass, for instance one won a gold in wrestling today.
Here is an article on Carol Huynh whose parents escape Vietnam for Northern BC. She had a nice smile when Ron interviewed her so I think she may do well post Olympics but woman's wrestling though a growing sport especially in the US isn't the men's 100 meter or one of the other big money events. However Canada's first gold medal has to be worth something to corporate sponsors and she has a very Canadian story. The first picture is Mi Hee Yu 유미희, Korean bodybuilder and mother. She isn't an Olympic athlete but fits well in my 健美 category. The weightlifter is from China but the picture isn't from this Olympics, I just thought she brought some cute to a sport that needs it from time to time. The picture after that is one of China's two women's Olympic beach volleyball teams.
China is going to win another gold medal in Women's rowing. Canada won a couple medals in rowing in Beijing this morning. I've been in Waves so long, it is another day of Olympic coverage now. As an UVIC alumnus I've always known that rowers were fit and strong. They had more extreme workouts than the rugby players I'd say. That was always a friendly rivalry on campus. I've always been a big fan of the erg as an exercise machine myself. I wanna buy one someday.
I found another famous Chinese Olympic Women's weightlifter. I did some digging and found her name is Liu Chunhong (刘春红) a two time gold medal winner now.
This post originated late at night, in fits and starts while I was working on other stuff. I almost forgot to find a picture of a Japanese female Olympian. I did remember to upload a picture of Carol Huynh who defeated one of Japan's best hopes for a gold medal. I tried to be somewhat fair but this isn't serious sport's journalism here. This is more like the ramblings of someone who has spent too much time in front of a laptop and knows how to use Google and other search engines.
The woman athlete getting the most press, well American press, at least about her physique, is swimmer Dara Torres. She was even on the cover of Time magazine. She is 41 and returned to the Olympic pool after having a kid. She seems to be faster and stronger than ever which has led to allegations of doping. Dara has supposedly volunteered to do extra blood and urine testing and hopes to serve as an example to women over 40. I know I wish I could look that good when I'm 40, hell I wish I could look that good now. She managed to win two silvers while I was sleeping…
More the next day
I'm in Waves I was trying to type something up for work, really, but Korean girls keep emailing me and China played China in beach volleyball and now the Chinese people in Waves on Main went nuts when the extremely confident Russian pole vaulter broke the world record.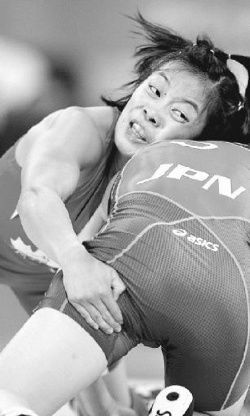 So Tian Jia (田佳) and Wang Jie (王潔) of China defeated their compatriots Zhang Xi (张希) and Xue Chen (薛晨), so says the official Chinese news source 29 minutes ago. The Chinese sports agency or whatever they are called already ranked the teams and what did you know they actually knew which team was better, amazing what years of careful observation of training sessions reveals. Never bet against the Chinese sports agency in inter-team matches, especially at the Olympics. I wonder how much gambling there is on the Beijing Olympics, Chinese love to gamble… But what my readers really want to know is how has the better abs out of Tian, Wang, Zhou, and Xue? I think I already posted a picture of Tian and Wang. I'm not even sure who has the better abs on that team. Lots of great looking abs on display right now in the woman's 200m.
There is a reason woman's beach volleyball is more popular than mens, just like tennis, there are better rallies in the woman's games. Wang Jie is the taller one with the shorter hair. Tian Jia is the shorter one and seems to always wear a baseball cap, very Korean. Once again I think Wang Jie has the more defined abs and she definitely looks cuter in some photos. This all China volleyball game may have helped the Chinese forget that Liu Xiang (劉翔) came up lame with the weight of the nation upon him… Wang and Tian of course play pro and are sponsored by Swatch so a lot of information is available about them in English. If they beat the top ranked American team somehow they'll become a lot more famous, at least in China. Yelena Isinbayeva the queen of woman's pole vaulting is also pretty damn hot. Not Asian of course but pole vaulters seem to end up with really great physiques, I don't have a clever theory to support this, yet. They've already updated her wikipedia page, some people have even less of a life than me.
Update July 25th 2012
Another Olympics (London 2012) has started and this post is suddenly popular again. I saw that the Chinese Women's Beach Volleyball team lost their first game, but I posted to Facebook that I would bet China in most events and for China to win the most medals overall. Low, they are in the lead after a day or so. Maybe I'll write a new post, but women's weightlifting isn't a popular spectator sport, certainly not when compared to women's beach volleyball. The only time I've heard women's weightlifting mentioned recently was in a Conan O'Brien joke on Twitter. There are a lot of blogs and websites doing Olympic coverage and with Twitter, search engines, and social media I'm not sure what I can add. It's easier to find pictures and video than it was four years ago, but my Chinese and Japanese have gotten worse. I probably won't bother writing a new post along these lines, but I did start following Carol Huynh on Twitter, she's the spokesperson for some charitable organization. I don't follow a lot of celebrities or athletes on Twitter, but I wish her and her teammates luck. It is harder to get excited for the Olympics after Vancouver hosted them, watching alone on your coach isn't the same.
There is a Tumblog that specializes in photos of Asian women athletes, it is all a bit dubious, now I have to Google and try and find it… He just posted photos of a Chinese woman winning a gold in Olympic weightlifting in London, no witty commentary. If you're just looking for pictures, try this Google search or this search in Baidu. Perhaps women's weightlifting can be seen as a proxy for the economic strength of East Asian countries, as Wang Mingjuan (王明娟) won her first gold and a Japanese women came second and a South Korean woman came third. That is historically how the countries have ranked in both economic and military power with a few brief periods where Japan has eclipsed China. Korea is consistently third, it has affected their national character a lot. Koreans have a lot of pride, hence the original blog posting when a Korean woman won the heaviest weight class thus nominally becoming the strongest women in the world. China and apparently Asian countries now dominate the lighter weight classes in women's Olympic weightlifting. One thing I like about weightlifting and dislike about a lot of other 'Olympic sports', is the punter in the audience knows who won. Whoever lifts the most weight, with the proper form, wins. Anyone can understand it. Anyone can try the sport, it doesn't require a lot of equipment or money. It takes a lot of dedication and time, and almost all athletes lift weights now so many people can identify with how difficult it is to lift greater than your bodyweight up over your head.
Update August 3rd 2012
Apparently Google seems to think I'm some sort of expert on Olympic women's weightlifting. I did read another story about it, China has so many talented lifters at 48Kg and 53Kg they appear to have loaned one to neighboring Kazakhstan and then she went on to win the gold medal for that country! Since 2004, a national team can only consist of ten lifters, six men and four women. You are allowed to enter more than one person in a given weight class, but there are of course more than four women's weigh classes so some countries like China have tough decisions to make. Of course if they went to purely percentage of bodyweight standard, they could have one Olympic champion for each sex, but the IOC doesn't want to give out less medals, more specifically the individual sports federations/governing bodies and national sports federations don't want to lose Olympic medals from their sport. Sponsors are also probably for more medals being awarded as opposed to less, I'm sure some fans could do with a few less sports in the Olympics…
China and other Olympic powerhouses groom athletes for years even a decade or more to win a medal for the motherland. Things don't always go according to plan and sometimes an athlete will pick up a sport late in life and find success, like one British Olympic rower supposedly did. My sporting days are mostly behind me, I can't focus like I used to and I've had too many injuries and health problems but I know rowing and Olympic style weightlifting are hard work. I wish I'd tried certain sports more when I was young.
What really makes this post popular is the images so I spent considerable time adding a few more, even though for the record I don't hold the intellectual property rights for any of them. Not all the photos are Olympic athletes, some are models, fitness competitors, crossfiters, others are just fit and healthy people who posted photos to show off their fitness progress. I've tried to get the names correct, the very last image is of Lee Jin Won / 이진원, Korean fitness competitor and blogger. No idea why Koreas have great abs, maybe it is the kimchi. I did some more digging and found a documentary, actually a CCTV segment, but in English, on the Chinese women's Olympic weightlifting team, particularly Liu Haixia (刘海霞).
And then another one, posted by the same person also from CCTV prior to the Beijing Olympics. Warning the second video does show an accident during competition where a tiny Chinese weightlifter (Yang Lian 杨炼) has something go wrong. Olympic weightlifters, particularly Chinese ones do such a heavy volume of training, but on competition day you try to lift as much as you can, sometimes things go wrong. Amazingly she continued with the competition, Chinese women after all, hold up half the sky! Their coach wants them to be fierce, determined, and crazy, which would make a good blog post title. Not sure which characters to use…
The more you Google, the more you find. It seems there was come controversy in choosing China's women's Olympic weightlifting team. They actually left off a world champion Tian Yuan (田源) in favour of the person who won the gold in the 48kg category Wang Mingjuan at London 2012. Politics played a roll, as did age, but there are also allegations of illegal drug use just like those made by Western media against Ye Shiwen (叶诗文). There are also more CCTV news stories, this time in Chinese. Looking up all the proper characters will likely turn up even more information…
Someone has even loaded the entire 48kg Chinese national women's weightlifting competition which took place prior to London 2012 to YouTube. If you're really a hardcore fan you can watch it until it is taken down for copyright violation. Tian Yuan is very short and stocky but used to be a sprinter, she certainly has muscular legs. Winning an Olympic gold medal is much bigger news in the English speaking world than winning a national or even world title in women's weightlifting, but the young swimming champion got more press than the entire Chinese women's weightlifting team combined. Tian Yuan is only 19 so she has other Olympics ahead of her, assuming she can keep a clean slate with the IOC and other sports governing bodies.
I wouldn't have thought there would be so much written about the Chinese women's Olympic weightlifting team in English, but after they won all four gold medals in the four weight classes they entered in Beijing a lot was expected of them by their countrymen and by those who follow the sport closely. Time magazine or at least the online version did a feature on them including sending a photographer to their training facility. Apparently some consider women's weightlifting to be their favourite event at the Olympic games. It is a shame that politicians and bureaucrats seem to have conspired to keep some athletes from competing for their country, but their machinations appear to have backfired as China did not win four women's gold medals in weightlifting and a former Chinese national won a gold medal competing for Kazakhstan.
Canada just won its first gold medal of London 2012 while most people were sleeping. Of course it was a woman. Canadian women often carry our team at the Olympics and do especially well in new or less mainstream sports. We don't have the sports schools that China does, nor do we invest the same amount of money that the Americans or even Australians do in their athletes, but we've gotten better at finding dollars through public and private sources and having hosted a number of Olympics in Canada, we have some nice facilities especially for the winter sports. Now if only I could convince someone to hire me. I'd move to China, or Japan, or Korea and resume studying foreign languages. I really am tired of typing, reading, and applying to jobs. Every now and then I get distracted and research or build something, but most of the time that is just procrastination or exhaustion from being perennially unemployed since my MBA.
Congratulations to Rosannagh MacLennan, but given that China won the men's trampoline and how well Chinese women do in diving and gymnastics, I'm sure they'll set up a sports school for trampoline soon and recruit peasants from the hinterland. Hopefully politics and bureaucrats don't spoil the Olympics for too many more people. China did manage the silver in women's trampoline, but like the Americans they really emphasize gold medals in their programs and propaganda. I added one more photo of Kang Yue (康月) and her broad back which I stole from one of the Time magazine stories linked to above. I even pinned it on Pinterest as like Tumblr that is starting to become a source of unique images, though I still prefer search engines to serendipity.
This post has been edited so many times the formatting got all messed up. I had to move the photo of Huong Archinas doing a crossfit exercise routine and basically rewrite it so that it made more sense. It certainly loads slow with all the images and embedded YouTube videos. Someone better leave a frickin' comment after all the time I spent editing this post, compiling all this information, and fitting in all these photos. I even looked up a lot of Chinese and Korean names/characters.
All Hail Empress Lee's Thighs
Today is the Canada US Men's hockey game at the Sochi Olympics (February 21st 2014), but last night I was reading about 이상화 aka Lee Sang-hwa aka Empress Lee aka @speed_sanghwa and I was inspired to update this post. She is now the two time Gold Medalist in women's 500m long track speed skating, but more importantly to the people who continue to read this post and make it so popular, she has extremely muscular legs. She is short and cute and a national hero in South Korea, but alas I think she is also engaged. It is hard to find much information about her and her training in English, but apparently her thighs measure 60cm in girth and she can squat 170 Kg.I used to play rugby and did heavy leg press. I've done 7 plates a side for reps at the top of my pyramid, but that was many knee and back injuries ago. I don't think I've ever tried to squat more than 250 lbs which would have been more than my bodyweight back in my rugby playing days. I always worry about my knees even when I was 19, now I worry more than ever about my health. For those of you who can't do metric or who don't actually lift, 20Kg is about 45 lbs, i.e. the big plate. So 170 Kg is almost four plates a side. The bar is usually one plate and 225lbs is the amount the NFL makes people bench at the combine, it is the gold standard for bench, squat, and dead lift. Lee Sang-hwa supposedly only weighs 62 kilos yet she can squat almost 3 times her bodyweight!
I pinned a picture of Lee Sang-hwa and her mighty thighs in a short black skirt, but now how to I include it from Pinterest in this post? This is as good as it is going to get during the Olympic hockey game. Sang-hwa is much more famous than 지연우 who is perhaps the most well known Korean female bodybuilder.
This entry was originaly posted on , it was last edited on and is filed under: Sporting Life and tagged: Asian, Body Image, Femininity, Weightlifting, 健美.