September 4th, 2008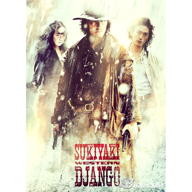 Last weekend while reading the Georgia Straight I came across a movie review and I immediately phoned my friend Dave. Sukiyaki Western: Django is a Western staring Japanese actors speaking English. It is executive produced by Quentin Tarantino who also appears in the film and is directed by modern day shock and goremeister Takeshi Miike.
Later that weekend I rented a Chinese movie "Blood Brothers" which was executive produced by John Woo. So Sukiyaki Western: Django isn't brand new but it is playing at, at least one theater in Vancouver. Hopefully I get to see it.
I remember seeing previews for Six String Samurai while in Calgary and thinking it would be great, but later when I saw it on VHS, it wasn't so hot, the best thing about that movie was the soundtrack. Hopefully Sukiyaki Western: Django turns out better. Now I mainly pick movies by the writers and directors but sometimes the concept alone makes me want to see a film.
The last time I wrote about a movie I wanted to see because I liked the concept and the actors, I was called a new shiny psycho…
[snip]
This entry was originaly posted on , it was last edited on and is filed under: The Arts and tagged: Cinema, Japanese, Takeshi Miike.