August 27th, 2009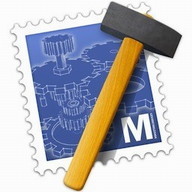 Mailsmith used to be the best mail program on the Mac platform. However it has gotten long in the tooth and has crashed far too much costing me many of the mails I've saved for years. I restored some, but I just got used to it crashing, waiting the long rumored update.
Now the program has informed me an update is available and the program which was always based on BBEdit is now owned by another software firm instead of Bare Bones:
On August 18, 2009, Stickshift Software, LLC. completed the acquisition of Mailsmith from Bare Bones Software, Inc.. Complete details are available in the press release, but the essentials are that Mailsmith support and updates are now available through this web site, starting at the top: http://www.mailsmith.org/.

A new version of Mailsmith is also available. Please see the Mailsmith Updates page for complete information and change notes.
I'm going to download and install the update now, hopefully they eventually add better character set support, spelling services integration, and support for other mail protocols. Apple is adding Exchange support so it is getting harder and harder to compete with Mail.app
I installed it, it looks a lot different, a lot more like Apple's Mail.app a lot more like a Cocoa app versus the other version which may have used the Carbon frameworks. I never had a problem with the GUI, I'm more interested in supporting standards and stability.
This entry was originaly posted on , it was last edited on and is filed under: Information Technology and tagged: Bare Bones Software, Email, Mac OS X, Mailsmith, Stickshift Software.