October 3rd, 2009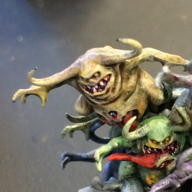 Today was Main Street Drift, it also was the 3rd year of Darren's Immortal Brush Competition. This was the first year I was in the store for the announcement of the winners and the first year I didn't enter a thing.
The first year I entered every category but one, and I may have even won twice. The second year I entered the same four categories and won Sci-fi Big for the second year in a row. This year I never had the time to paint a 28mm scale vehicle but I had a new Chosen squad I finally finished. They were all converted, all had resin bases, they may have done well. Pictures are on Flickr.
The judges were the artist featured in the drift and the sculptor from Ultraforge. Next year I will enter something, and I'll try my hand at the special Ultraforge category, with a Pleasure Daemon me thinks.
With the supposed demise of West Coast Mayhem, this may become the biggest miniature painting contest in Vancouver. I subscribed to his new RSS feed so hopefully I won't miss the contest next year.
This entry was originaly posted on , it was last edited on and is filed under: Gaming and tagged: Miniature Painting, Vancouver.