April 23rd, 2010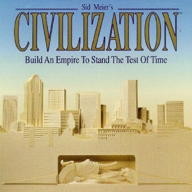 I finally won a game of Civilization IV on the third difficulty level, not that impressive perhaps, but it took many tries. Civilization IV has been taking up too much of my time and affecting my sleep pattern. I've also been watching a lot of hockey on TV, but with the first team eliminated (New Jersey) tonight, I'm cutting myself off from Civilization for a few days.
I took about a 48 hour break before, but I didn't accomplish much, so this time I'm not resuming trying to win, until I clear off my 'ta do' list. It isn't too onerous, the big thing I was going to work on while 'f-unemployed' was my trench table. I haven't worked on that in over a week, especially since I started making excuses about having trouble cutting the foam. The foam is also not perfectly cut by the Home Depot staffer, which makes my job harder. I haven't found the tool I want locally. I've been meaning to go shopping further afield for it, maybe tomorrow.
Tomorrow I plan to check out a concert, Rodney Decroo and his Convictions along with Spoon River and special guests, which I think is one of Paul Pigat's projects. It is at the Fairview Pub which since I was in Kits I biked behind it perhaps. Not sure who else is going, I haven't been recruiting…
Lots of stuff in the news, Goldman Sachs, volcano in Iceland, earthquake in China, even the NFL draft. You can tell how much my life has changed when I didn't know it was the NFL draft until a hockey journalist mentioned it. I've been pretty hockey and MMA focused the last few years.
I was working on a longer post about looking for work, but I haven't finished that posting nor have I found a job, so look at my resume!
I plan to buy the second Civilization IV expansion so I can try some new civs, I won with Saladin, he is one of my three favourite leader options with the Warlords expansion. Looking forward to trying the game as:
Dutch – Willem Van Oranje
Egypt – Hatshepsut
Greece – Pericles
India – Gandhi
Russia – Peter
Arabia – Saladin
Byzantium – Justinian I
The combos in bold, are new to Beyond the Sword. I like leaders who are Philosophical and Spiritual, but Creative gets a lot of love online. I run out of money sometimes by expanding too fast, so attributes that keep costs down are also desirable. I like to start with Mysticism and the Wheel most of all so that figures in the leaders I prefer. Unique units and unique buildings don't figure much into my preferences. That is something I plan to look at in more detail, however I've already read enough, nothing substitutes for experience.
Oh and it's Earth Day, Record Store Day was better.
This entry was originaly posted on , it was last edited on and is filed under: Gaming and tagged: Music, Paul Pigat, Rodney DeCroo, Sid Meier's Civilization.