November 28th, 2010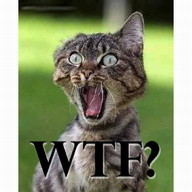 Normally I don't send mass emails or post funny photos to my blog. But I guess if I haven't done it already, now is the time. Again I looked through my meager collection to find these, I'm not a big hoarder of stuff I find online. I'm more of a content creator than a content thief. However it is safe to say I don't own the rights to these images and they are posted for the amusement of my readers and to tempt bandwidth thieves.
I had more of these than I thought, I guess you use the Internet long enough even I have some stupid images in my Pictures folder. Again not sure where I got them all, one was sent to me by someone in China, the rest I just saved over the years as I found them. I even found yet another animated gif that I probably got off Sherdog.
The first one I actually think I found on a miniature painting forum. Needless to say this is someone's kid and some photoshopping.
Next in reverse alphabetical order is pretty much the ultimate beer gut.


The picture and the caption on the next one absolutely killed one of my coworkers when I showed it to them. I think it probably has been on Facebook a couple times.


I actually found another animated gif or two, this one again is probably from Sherdog but who knows. No I don't have a clue about the context. One thing about animated gifs is they have no sound. They start playing as soon as the page loads which you can make YouTube clips do too, if you want to be annoying…


The picture of Darth Vader throwing the first pitch was actually on the news wire of sports websites. It still cracks me up. It is hard to get a hit off of someone who is a master of the dark side of the Force.
Next is a picture of a cat in the snow that a girl in China sent me. Since it was actually sent to me by a girl in China it must have high cuteness factor. Of course I like the baby making the war face better.
Finally amusing tattoo or at least photoshop of a woman and her boob. Yes I used the word boob, you want to get a sudden increase in web traffic use the word boob or better yet tit. Tit is less funny so it's probably what guys would type into a search engine.
This entry was originaly posted on , it was last edited on and is filed under: The Good, The Bad, & The Ugly and tagged: Funny, Photos.