November 29th, 2010
I think I'm now paying more for my webhosting, but I'm not sure I'm actually getting more bandwidth. I was getting a good deal before and now I'm possibly not. The company I was using DixieSys was acquired sometime back and so my plan no longer exists. If it wasn't for bandwidth thieves I could have gone on not existing.
Oh well it isn't like I'm busy, I'd just rather not have to go over webserver logs line by line looking for people hotlinking to images I posted years ago. I guess after letting it slide for years it was time to come down on them. They are getting 403 errors now, my attempt to show them an alternate image failed. In fact the whole .htaccess script seems to be not working. I may have to talk to my webhost if the blogosphere can't help me.
As if there was any doubt people like looking at funny photos on the Internet, especially on Monday morning. I never clued in it was Monday morning, I'm just not that clever. My website was down for a spell but it was up long enough today for lots of people or at least Facebook to look at the baby making the war face. I'm not sure people bother to look at the whole post or the other photos.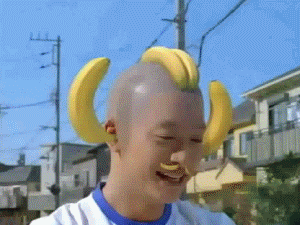 Note to self include stupid/cute/funny photo in every single blog post to get low hanging fruit Facebook crowd.
Also it should be noted, though not quite as popular, are Asian women, err pictures of Asian women... I probably shouldn't have tempted certain people, I'm no Oscar Wilde, but I can give in to temptation. So if you want an increase in readers to your blog write a post entitled "Funny photo of hot Asian" or something like that and people will click especially if you actually include a funny photo of a hot Asian…
If I haven't mentioned it already TheGreenRebel over on GameTrailers.com is an asshole or at least a thief. I wonder how much of my bandwidth was being wasted showing an animated gif of Hitomi Tanaka and a photo of Greg Valentino… If you guessed that an animated gif takes more bandwidth especially if it is of a busty Asian girl who went on to do adult films… Well you'd be right.
One thing I did learn by looking at my logs again today is how fast some of my stuff is getting indexed, not just by Google, but by Yahoo (Slurp), Bing/MSN, even by Baidu. I also found a few other surprises. I don't know how many feed subscribers I have but some have entered my blog into systems I've never heard about. Spinn3r I think I wrote about once, but Feedly, BlogScope, Flipboard, soso, and livedoor were new to me. That last two are Asian I guess a reward for occasionally using Asian text, or writing about Asia, or posting pictures of Asian women. Actually livedoor has been around for years I think, just never thought they'd be including stuff I write.
ども ありがと ございます。
谢谢
고맙습니다
Well better get out of the house now, go try to find a job. Needless to say all these internet troubles the last week and bit have not been good for my job search.
This entry was originaly posted on , it was last edited on and is filed under: Information Technology and tagged: Analytics, Animated GIF, Blogging, Hotlinking, Japan.