December 17th, 2010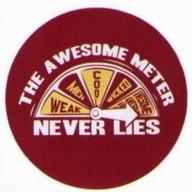 What kick?
This kick from the Henderson VS Pettis WEC Lightweight Title Fight.
Sorry the resolution is less than stellar, it was the only one that appeared in a timely manner on Sherdog and was likely made by someone watching a live feed on their computer. I'm sure this clip will be on Sports Center, YouTube, all sorts of plays of the year highlight shows.
Also amazing Ben Henderson survived the kick actually got up and tried to win the round and the fight. This was a total ballsy move on Pettis's part as it was in the final round of a close championship fight which Pettis ended up winning, but this was the exclamation mark. Now he faces the winner of Frankie Edgar and Gray Maynard.
Journalists are probably still editing, I'll try to find some stills, and official footage later, for now enjoy the Ninja Kick of Doom as some Sherdoggers dubbed it.
Here is another gif of it, from MMA Mania.
This entry was originaly posted on , it was last edited on and is filed under: Sporting Life and tagged: Animated GIF, Anthony Pettis, Benson Henderson, MMA.