December 21st, 2010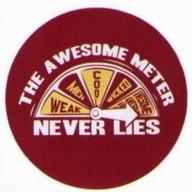 One of the points I didn't hammer home enough yesterday was that the rise of social media has made the web either more of a meritocracy or more competitive or both. To that end there is one more point would be bloggers need to remember. People spread awesome. I don't know who said it first, but I do know who repeats it often, Scott Stratten.
So as 2010 comes to a close, I've decided to dip into my favourite Flickr photos and my collection of favourited videos on YouTube and give the people a little more of what they're funkin' for.
To that end I give you Bob Log the Third rafting the audience while playing a mean six string at the same time at the lost lamented Richard's on Richards. Also those proponents of Awesomeology, the world's greatest rock n' roll band, the Supersuckers, kickin' the truth, straight outta Tuscon.
If that's not enough awesome for you I've gone through five years of blog postings, carefully observed web analytics software, referral logs, and the attractiveness certain posts on Muskblog have posed to spammers, and I give you the Top 15 most Awesome, most likely to be forwarded by social media, posts ever made, by me here. Why fifteen? Because ten just wouldn't be awesome enough!
Update: five more years have passed or just about, I've taken down two of the supposedly awesomest posts ever written but luckily I've replaced them with even better content that people continue to read everyday years and years after it was first published. This time the number of posts deemed the most timely and the most timeless is twenty! Even awesomeness can't escape inflation.
Top 15 Awesomest Blog Posts
There you have it, feel free to spread the love, or at least the pictures of the Asian women which seem so popular online. And lest you think I chose these posts at random I give you a peak into the Google Analytics and the Spam Magnets of this domain.
One final anomaly is apparently March 25th was the most popular day for Muschamp.ca this year. Wonder what happened that day? Did I post anything to this blog? Nope, but two days earlier I posted some pictures of miniatures I was working on. I probably told a few people online and they all rushed at once to see them. Or at least I'd like to think that.
Have a Happy Holidays and I'll see my loyal readers back here in 2011.
I removed the animated gif of Hitomi Tanaka doing karate, it just wasted bandwidth and caused problems. She hadn't done any adult video when I posted it, now I'm sure she is easy to find in Google. Tumblr seems to be a haven for dubious animated gifs.
Photo of hot babe painting miniatures taken by Icedsoul Photography
This entry was originaly posted on , it was last edited on and is filed under: Marketing and tagged: Analytics, Hitomi Tanaka, Scott Stratten, Social Media, Top 10.