October 26th, 2011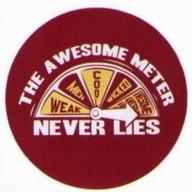 Maybe I should create a Tumblelog.  I thought about it, but instead created another blog over on WordPress.com.  I don't follow many Tumblogs but there are one or two gems I've found and today one posted some pretty awesome animated gifs which are always popular with web surfers and bandwidth thieves. 
One of the big problems with Tumblelogs is they have so little text, making Tumblr less than optimal for search engine optimization. Tumblr is viral though with their liking/reblogging mechanism.  Tumblr is also supposedly a haven for copyrighted images, such as possibly this one.  I don't know who owns the rights to this video footage.  I also wonder how anonymous Tumblr is…
I liberated one of the animated gifs as a teaser, but enough of my rambles, go see more top tumbles!
This entry was originaly posted on , it was last edited on and is filed under: Information Technology and tagged: Animated GIF, Hotlinking.