July 25th, 2018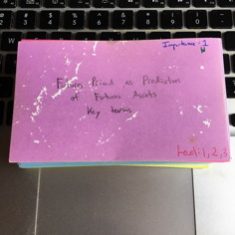 Just over thirty days ago I sat the CFA® Level 3 Exam. I've been applying to job openings ever since. I of course do not have my score, rumours online have the exam results being released August 28th, but in the mean time with my new found free time I go to the gym, despite a bad knee injury, and try to whittle away at my ta-do list, including plans to update this blog and the my CFA flashcards.
Apparently I finally mastered the CFA Curriculum or at least the exam format as I passed the Level 3 exam on my first attempt. I've of course been applying to new jobs since I wrote my final CFA exam, but I've yet to have one interview. I've also been updating this website and now that I never have to study for a certification exam again, knock on wood, I'll probably finally get around to fixing and updating many things on Muschamp.ca then maybe, just maybe, it'll be an asset as I think there is legitimately some good advice and useful links not to mention piles of Excel files and whatnot that go undiscovered as I live behind the Great Firewall and do not self promote enough.
Last year I typed up a list of all the flashcards I was studying right up until exam day, this year I planned to do the same thing, but first I had a few more general thoughts. If I had to rewrite I would of course start with any newly added material, but I'll also start with the flashcards linked to below, questions I've collected, and whatever material I did worst on during the actual exam along with the most dreaded material which for Level 3 may be currency hedges with options such as collars or swaptions.
The CFA Institute changed their website, they may have changed it for the 2017 December Level 1 exam, but now the online practice problems and exams are handled differently. You no longer can just redo an individual item set, in fact if you want to redo any of the item sets you have to blow away all your scores. Which I was unable to do using Safari. The CFA Institute has also added gameification to their online study materials. I earned several badges, there may even be badges for passing the actual exams which I can add to my social media profiles.
The best new feature is the CFA Institute ranks you based on your latest performance in the online practice problems. I redid all the online problems in the two weeks before the exam and my score and ranking gave me confidence that I should pass, but the morning portion is considered the most difficult part of the Level 3 exam and I will just have to wait and see, hoping my months of studying and long run average are sufficient.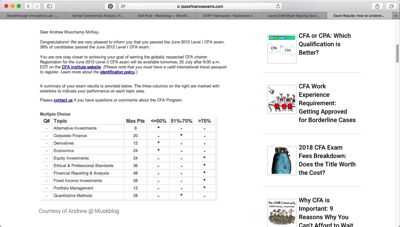 I took some screenshots of the CFA Institute's website, one of which I already posted. I've also discovered people take my images and other content from my blog and I'm tired of it. I got in trouble for posting a screenshot containing part of the CFA Institute logo previously but I don't recall reading anywhere that I couldn't discuss my performance on practice exams and practice problems, it is discussing the actual exam problems that is forbidden.
According to Mark Meldrum the CFA Institute has been paying close attention to social media, they like my Instagram photos, hopefully including non-English social media and a reckoning is coming. I just want to post a few images after months of studying, hopefully this is "OK". Hopefully they won't immediately get stolen, I mean if you're an expert in passing the CFA exam why don't you have an image of your email confirming you passed the CFA Level 1 exam, why use mine?
At some point I lost some data on my hard drive, though I have backups, but I have emails going back to 2001 in MailSmith, I swear I've never heard of Stephanie Ng and her husband John and can find nothing in my original post where I gave permission for others to take my image. So I took a screenshot of my results email on the website ipassfinanceexams for posterity and of course made a tweet to commemorate the occasion.
Anyone know who runs this #CFA blog? Or why they'd use my images, I'm pretty sure I didn't give them permission and I'm in a considerably less generous mood in 2018 than I was in 2012. https://t.co/VNaDmMfJd6

— Andrew (@MuskieMcKay) July 25, 2018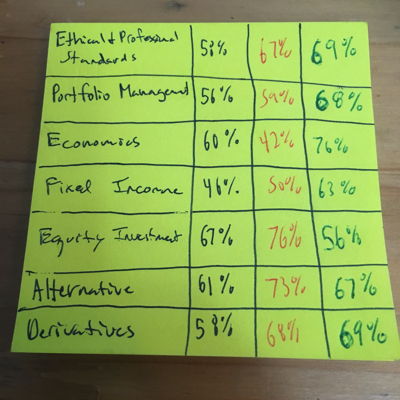 The screenshot I was worried about is below. I took it the evening before the exam, don't steal it! My interpretation of the data was if I just maintained my average performance I would pass. I think this is good information for a candidate to have. Confidence is very important to passing CFA exams. Previously you could calculate you scores in practice problems and exams, and I of course did, but you had little data comparing yourself to other candidates.
What if I write it on a sticky and then post it to my website, is that OK?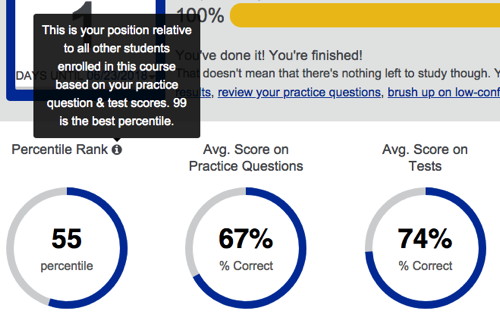 I also took a screenshot of the WordPress analytics for the my collection of flashcards. Traffic increases every week starting in April then after the exam traffic falls completely off a cliff. Level 1 candidates do the most panicked searching so traffic will pick up again as the December exam approaches but every year traffic peaks the week before the June CFA exams.

Just in case I get in trouble for my screenshot, I also made an Excel file of my practice exam performance and kept track of my performance on a sticky which I then photographed with my iPhone, but honestly if 54% of candidates pass and I am supposedly in the top 45% I should have a solid chance to pass right?
My strength after eight months of studying was Equity Investments so I re-did those problems last and ended up doing considerably worse, but I probably shouldn't have still been doing practice problems at that point in time. Hopefully I got a decent night's sleep and did well enough on the actual exam. I focussed on speed in the morning, I know I did not get them all correct but I at least wrote something in all the boxes. In the afternoon I had time to double-check about two thirds of the problems, I've since lurked in some forums online and the consensus was the exam was hard and people are hoping the Minimum Passing Score is in the low 60s.
I'm honestly tired of studying not to mention applying for jobs but if despite all my preparation and reasonable performance on practice problems, if I still do not pass, I will rewrite and these flashcards will be reviewed once more. I still don't recommend blogging about being a CFA Candidate, apparently people who are supposedly experts in passing CFA exams will liberate your images. Maybe I gave permission but in 2018 after all the crap I've been through I'm rescinding my permission if I did in fact give it. Maintaining a blog as long as I have is far from easy, don't let the social media experts who have been doing it for 2-3 years tell you otherwise.
This post was a lot of work, I'm not sure it was worth it, especially considering I keep discovering my content on other websites… I really do not want to spend another year studying for the CFA exam and I'm long overdue for a new job so you might as well look at my resume if you've read down this far.
This entry was originaly posted on , it was last edited on and is filed under: Finance and tagged: Blogging, CFA®, Exam, Level 3, Study Materials.