February 11th, 2007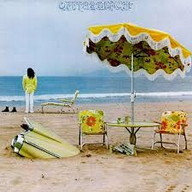 "On the Beach" is an old relatively obscure Neil Young album, that I used to play on my radio show at CFUV. It was out of print for years, I don't know if it was ever released on cassette, and it wasn't released on CD until recently. It contained three songs entitled something Blues. My favourite is "Revolution Blues" which I learned from the Waco Brothers who covered it.
Someone has taken the song "Vampire Blues" and set it to modern news footage. Of course it now takes shots at the Bush administration. It was originally written about the oil crisis of the 70s. I try not to listen to "On the Beach", especially my vinyl copy which I had to go to great lengths to acquire. Now that it is available on CD it doesn't feel as special.
Of course I learned of this YouTube video from Thrasher's Wheat. And people who like music and don't like Bush might be interested in a similar thing which was done with a Meat Purveyors' song. If you have thoughts on politics or music you can leave them below.
This entry was originaly posted on , it was last edited on and is filed under: The Arts and tagged: Music, Neil Young, The Meat Purveyors, Video Clip, Waco Brothers.