September 18th, 2005
I went to the Forbidden City last week. Unfortunately I couldn't really enjoy it. My mind is always on my problems. Nothing can be done. One blatantly obvious observation is the Chinese government's willingness to monetize the Forbidden City. In addition to numerous stores inside the Forbidden City there is also a bank machine and of course a Starbucks. How convinient or as they say in Chinese "fung bien".
I'm afraid to try Chinese characters, though I know WordPress can handle Japanese if set up correctly. The key phrase is set up correctly.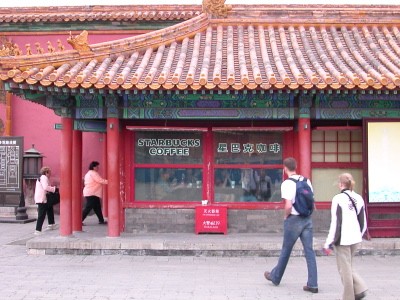 This entry was originaly posted on , it was last edited on and is filed under: Asia and tagged: Beijing, Cafe, China, Forbidden City, Starbucks.