March 14th, 2006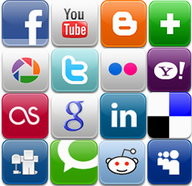 Apparently it is all the rage. If you're not hip enough to know what social bookmarking is or why it is the next big thing well, you'll just have to become more enlightened.
The other day while looking for something new to read online I googled "SEO blog", but without the brackets. On the second page I found SEO Blackhat and one of his postings which was about social bookmarking. He even came up with a little HTML/PHP to make adding social bookmarking buttons to your WordPress blog easier. As cool as that is, somebody is working on a full fledged plugin. I eventually used Digg Digg for years then I switched to Professional Share and then JetPack and now I've removed all the plugins and social sharing buttons in the name of speed.
If you miss the row of sharing buttons commonly seen on most blogs and you can no longer share the brilliance contained on this domain you can vent below.
This entry was originaly posted on , it was last edited on and is filed under: Information Technology and tagged: Plugin, SEO, Social Media, WordPress.