December 23rd, 2006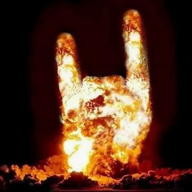 Today I went and picked up an unexpected package at the Bowser post office. My sister said it was something I bought online, but the only thing I've purchased online recently was Citizen Marketers which was delivered to my door, or at least our post office box. I joked it was a subpoena, but my mom said it wasn't registered mail. Then I remembered an email I received saying members of the Supersuckers fan club would be getting something in the mail.
It turns out it was an autographed press kit photo of them. I scanned it in but I didn't do the best job.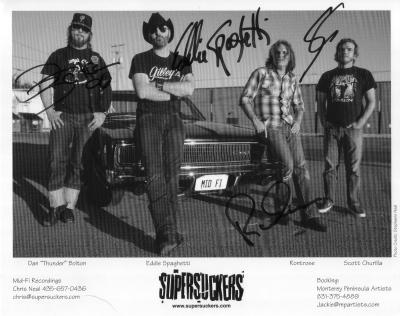 I'm sure Jackie and Ben would appreciate some of the Supersuckers self marketing and the evangelism that some of their fans have done on behalf of the band. During my MBA the Supersuckers came to Vancouver and I made a poster and sent out some emails trying to encourage classmates to go to the show. I was extremely disappointed when even our class's resident rocker Chick wouldn't go. Eventually things got so distressing that I forgot to go to the show myself. I was even on the guest list at the Commodore Ballroom.
This entry was originaly posted on , it was last edited on and is filed under: Marketing and tagged: Music, The Supersuckers.