February 1st, 2007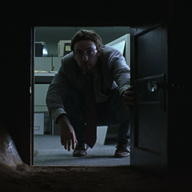 "Being John Malkovich" came on the TV unexpectedly this evening. It is a brilliantly absurd movie. I saw it when it came out, I guess in 1999 and came away very impressed. It was directed by music video maven Spike Jonze, starred John Cusak, Cameron Diaz, and of course John Malkovich, but the real star is screenwriter Charlie Kaufman.
Screenwriters are rarely given an opportunity to steal a film. However this script squeaked through the cracks and John Malkovich took a liking to it and agreed to appear in it. That helped the film make it to the screen with all its warped genius intact. I've been following his career ever since.
Charlie Kaufman, the Cohen Brothers, and Wes Andersen are some of my favourite mainstream film makers working today. Kubrick is of course my all time favourite film maker and there are some aging giants of cinema still left working. Terry Gillian has consistently made some thought provoking, imaginative, one of a kind films dating back to his time with Monty Python. Kaufman plans to direct now that he has garnered critical, financial, and even success at the Oscar's.
Prior to writing this post I did some research into Charlie Kaufman. I was surprised to read his dissatisfaction with the final product in "Confessions of a Dangerous Mind". I thought that film was brilliant, I laughed my ass off, I read the book. I liked it better than "Adaptation" or "Eternal Sunshine of the Spotless Mind". I also learned that Kaufman adapted a Philip K. Dick story but they've decided not to use his script and that he admired Woody Allen growing up.
I always thought of writing a screen play, but life got in the way. The closest I came so far was a one act play.
"Being John Malkovich" has a bizarre love quadrangle, of course the John Cusack character gets screwed over, what else is new. If you have thoughts on cinema or screenwriting you can leave them below.
This entry was originaly posted on , it was last edited on and is filed under: The Arts and tagged: Charlie Kaufman, Cinema, Writing.