October 31st, 2011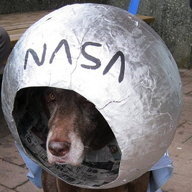 We don't have a lot of little kids in my immediate family, but my sister has two dogs. They are Lab crosses and they are a lot of work. None the less my sister dressed them up and took them down to the local mall to enter them into a costume contest sponsored by Woofy's.
Huuna the space dog won, Rosie the evil twin, err alien, did not win. Everyone thought the dog costumes were hilarious, we even took the dogs to the old folks home to see my grandmother. My sister of course put the pictures on Facebook and even on Flickr, but now I'm throwing a couple up here for the rest of the world wide web to view.
In 2019 I'm all about blogging better. This entails updating old blog posts. My sister now is questing for the #instafame but I am focussing more on search engine optimization, leveraging this blog, and finding a new job. If you like dogs dressed up for Halloween leave a comment immediately.
This entry was originaly posted on , it was last edited on and is filed under: The Good, The Bad, & The Ugly and tagged: Costume, Dogs, Family, Halloween.