July 27th, 2014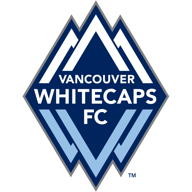 I get invited to a lot of events, I'm selective of which ones I attend especially because it is my own dime. Today I went to see a Vancouver Whitecaps game with UVIC alumni. We were supposed to arrive early and have a Q&A with Whitecaps COO Rachel Lewis. Rachel is an alumni of two of the three schools I attended.
There wasn't a lot of time to network before kickoff. Perhaps if I had arrived earlier but the Sunday bus schedule is what it is. The soccer game itself was exciting with the Whitecaps unlucky to not come away with a victory. They had by far the most chances. This wasn't the first Whitecaps game I've attended, not even the first Whitecaps game at BC Place. I've even played soccer at BC Place myself, but this was my first time in the stadium since the roof was replaced. They also updated the video screens, it is definitely nicer than it was before.
I'm not sure attending this event advanced my job search one iota, but I'll turn it into a blog posting none the less. I just brought my iPhone and I actually watched the match rather than took selfies, so if I don't have the best pictures, c'est la vie. I am still wearing my blue group wristband and I did spring for a premium nine dollar can of beer.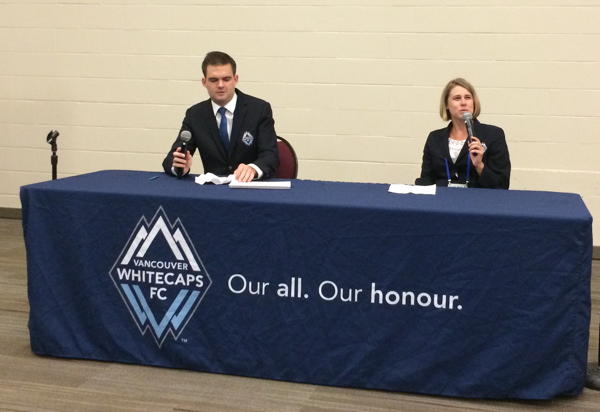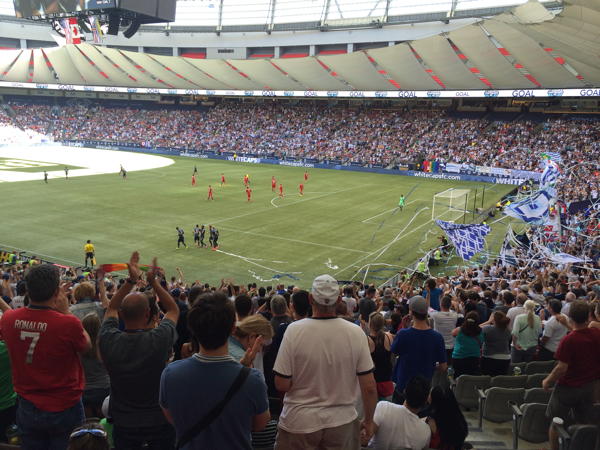 While living in China I continued to follow the Whitecaps. I was also there for one World Cup. I even tried to buy a Whitecaps jersey while I was home but they didn't have the one I wanted in my size. I did see one Chinese pro soccer match, not a lot of people understand soccer despite it's popularity, they don't know where the ball will go at least not as well as me. I was sad the best Belgian team ever did not make the finals. But now I have a much bigger problem in that I need to find a much better job having finally passed all three CFA® exams and somehow I got it into my head to improve old blog posts in order to better leverage them.
In 2019 the Whitecaps seasons has not started well. But if you have thoughts on the Whitecaps or MSL you can leave them below.
This entry was originaly posted on , it was last edited on and is filed under: Sporting Life and tagged: Sauder School of Business, UVIC, Vancouver, Whitecaps FC.