February 21st, 2015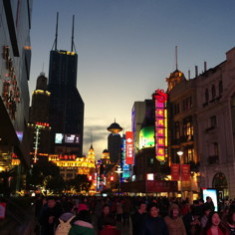 I probably should be studying and I did study during the Spring Festival, but I did do some walking around Shanghai during the day and even at night took a few snaps with my iPhone. I've yet to use my fancy camera much, the iPhone is just convenient for daily snaps.
I also learned you can not buy an Apple TV in mainland China but you can in Hong Kong. I also discovered that in order to get sound and video from an HDMI cable, older Macs need a very special adapter indeed. I will try one last time to find the adapter locally but otherwise will probably order it, because I am too poor to buy a new computer. I really will have to find a better job, I'm basically wasting my Bachelor's of Computer Science and MBA teaching English right now.
As always I've remained a Flickr loyalist so these photos and more are on Flickr complete with hopefully useful descriptions. I'm a less is more kinda guy when it comes to photo uploads, why do I want every shitty photo I've ever taken online?
Eventually I wrote a guide to photographing Shanghai's skyline because I spent a lot of time living in Shanghai not getting ahead despite passing all three CFA exams. If you have any advice on photography or job searching or life you can leave a comment below.
This entry was originaly posted on , it was last edited on and is filed under: Asia and tagged: China, Nanjing Lu, Photos, Shanghai.