April 10th, 2020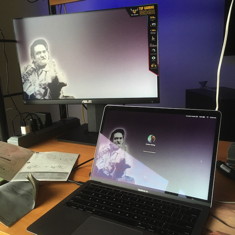 During the pandemic, some people have become Internet famous, if not world famous documenting their experiences in Wuhan or New York on social media, I've just been working away from home in Calgary. We're pretty well off here in Canada, we have public health, Calgary is not a port and is quite far from the border, and I still have a job that pays well enough. Work is even organizing charitable giving campaigns among our staff.
Others have had it a lot worse with full on quarantine, food shortages, loss of jobs, not to mention severe outbreaks of Covid-19 in their city. There are older residents in my apartment building and I still have a grandma so they have more to worry more about the virus, I need to be responsible for them. I have no control over the economy, my neighborhood and lots of small businesses and larger ones will never be the same if they even survive.
Keeping an even Keel
I'm not one to blog about first world problems. I've been through hard times. I've lost my job through no fault of my own before, I've been unemployed for extended time periods. It is a huge setback one you likely never recover from. So I just do my job, I just use the laptop I was provided with, I don't complain when projects I worked on get cancelled or deprioritized. I've also tried to support the local businesses in my area, though I've also shopped online at Amazon. What did I spend most of my money and time on, upgrading my work from home setup.
Enter Laptop Number Two
Even before the entire firm was forced to work from home, I received a second laptop. I had bought the cheapest MacBook available at the time, then I was issued a Surface Laptop 3. It is definitely the nicest Windows machine I've ever had, but I still prefer a Mac. Switching daily between them ruins my keyboard shortcut usage. But I must use Microsoft only products like Power BI, SQL Server, and Visual Studio.
Two Laptops One Dock
Suddenly having two new laptops, after using one old one for years and years I didn't realize all the features I'd been missing out on. I started to research docks, why couldn't there be one dock that both my personal Mac and work Windows machine could use. Then they could share peripherals, network connections, and I wouldn't have to plug and unplug so many cables every time I wanted to use one or the other. Two desks or an actual home office would be ideal, but my life is far from ideal. I have one desk in my living room, which is almost 20 years old, that I must use for everything, I even eat at my desk much of the time.
USB-C versus Thunderbolt
To hook two different laptops up to one dock, you need a common cable. The MacBook Air I bought this year has Thunderbolt, the Surface Laptop 3 I was issued does not. It has USB-C. They look similar but you can't just swap cables and devices willy nilly between them. Luckily I'm not the only person who wants to hook up a Thunderbolt laptop and a USB-C laptop to the same dock. Before Covid-19 forced everyone to work from home I ordered a Caldigit USB-C Pro dock. It took it's sweet time getting here and I wouldn't say it works seamlessly but it does send everything over one common cable including power to both laptops.
Enter the Peripherals
The dock came with a Thunderbolt cable that could work with the Surface Laptop 3 as a USB-C cable but while waiting for the dock to arrive I researched monitors. If I had to do it all over on day one of self-isolation I would have ordered everything, but I worried about cashflow, I didn't even plan to buy a dock, let alone a whole new home office. The first couple days of working form home I just used the Surface Laptop. I should have ordered a monitor, cables, and kettlebells day one. Eventually I ordered everything but kettlebells.
Buying a monitor
There are a lot of monitors in a lot of sizes. I consulted with coworkers and I measured my desk. I didn't really have room for two monitors at least not two 27″ or bigger monitors. I'm not even sure a single 27″ would fit beside a shelf I ordered for my desk before this all began. I'm still waiting for this shelf. I also need a monitor that has Displayport as that is what the Caldigit dock supports. I decided a 24″ was a better fit and I wanted one on an adjustable stand. Dell supposedly makes the best one but when I called they would be able to ship it April 23rd. I always liked Viewsonics but I ended up buying the most expensive 24″ monitor still in stock at the local BestBuy when I finally got my dock. It is an ASUS TUF gaming monitor, but it has a solid stand and the port I wanted. It doesn't glow or anything and but it can do 144Hz refresh rate.
Cables etc.
It turns out if you add more devices you need more power outlets. The dock and monitor came with the cables I needed to get them to work, but I also bought some LED lighting which I finally installed. I had to hit up the local Canadian Tire buying their biggest power bar, again because it was in stock and although I could order online and pick up later, but after getting everything to work, including integrating everything into my LAN, home theatre, G4, record player, and even my CD-ROM burner I decided I needed some longer cables and a couple more adapters for everything to work at once.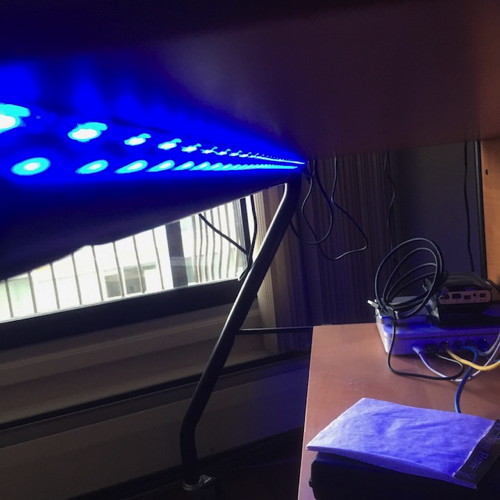 LED Lighting
When I ordered my lamp for painting, yes I use one desk for work, gaming, and miniature painting, I ordered some LED strip lighting. You can see a strip installed to illuminate a shelf above. I had previously installed some LED lights from IKEA and decided I need more light particularly on the shelves of my desk, so I carefully installed LED strip lighting while the desk was out from the wall. It all worked, then the vertical blinds of all things may have bent or otherwise damaged a pin on one LED strip light, so I ordered another one. The first time I got the cheap version with no remote, but if you install them in really tight spaces like I did the remote becomes more worthwhile. Some can even be controlled by your smartphone. They are generally USB powered so you need USB extension cables not regular AC extension cables and you likely need USB adapters. Plugging them all into a USB hub will likely not work as the hubs have a limited amount of power. My dock has a lot of power, but you should still plug LED lights into a wall socket through an adapter if they draw a lot of power.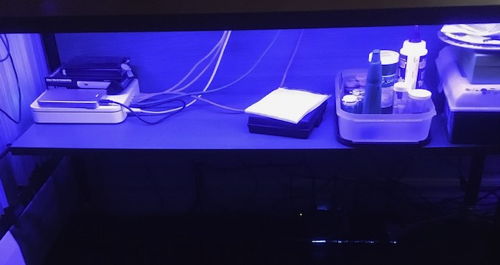 The Future
I have not been optimistic for a long time with the Trump election, Brexit, US vs China escalation, the South China Sea, India vs Pakistan, US vs Iran, war in Syria, the rise of autocrats, there are flashpoints in South America and Africa too. This may be the new normal and all this was happening before the pandemic. My personal future is not cemented. I am a contract employee, but I will be improving my home office further running yet more cables to adapters. I should remove the G4 but it really ties the room together, not that I get any guests. Rands went through something similar to me, I used to loop and ziptie cables, you can get velcro straps too, but the best solution is to order or make cables the proper length. Maybe I should have gotten a second monitor, but I left room for more shelves which are on a slow boat from China, I did order a stand for my laptops from Omoton that is pretty cool but it wasn't cheap.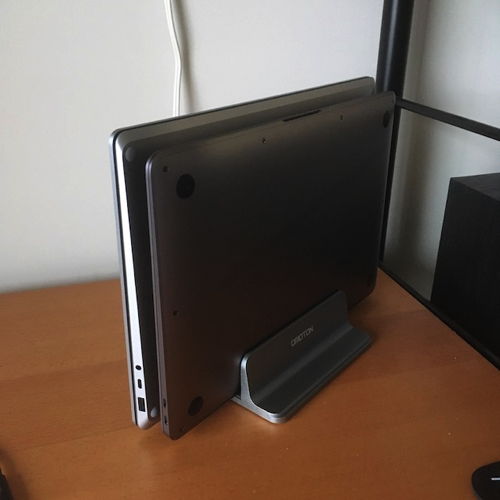 Gaming
Since I got a gaming monitor and two new laptops and we are strongly encouraged to stay indoors. I finally broke my hiatus from video gaming. The game I chose to play was Sid Meier's Civilization: Beyond Earth which I'd bought when it first came out but never played, waiting until I had a better laptop, even though I played CiV a lot. You need to set the external monitor to be monitor one in order to get it to work like you expect. Some games may handle two screens but I couldn't use it for anything in Civ:BE. I eventually got a Logitech G403 Hero mouse which I thought was in-stock at the local London Drugs, it was not, and the mouse does not work well with MacOS Catalina and was probably my worst pandemic purchase. I prefer cheaper simpler mice that are truly plug and play.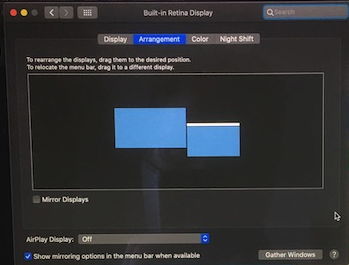 Music
Working from home, I listen to more music. I use my AppleTV and home theatre. I even ripped a couple more albums from vinyl and CD. I should definitely do more of the latter as it is easier than digitizing vinyl, but most of the time I am working on the Surface Laptop 3 and the MacBook is asleep, the external burner was connected to the dock, but now I moved it to a USB hub. It is a vintage LaCie model which supports Firewire and USB. I also tested that my NAD PP2e worked through the dock. Most everything worked, the thing that gave me the most problems was the Logitech gaming mouse, it literally stops working during games! I will have a lot of Last.fm analytics to go through at the end of the year, I've also bought more music through iTunes and Bandcamp. John Prine dying was particularly sad, as I almost got to see him, I should have gotten to see him. When this is over I'll probably make plans to travel to see certain bands, people, and places.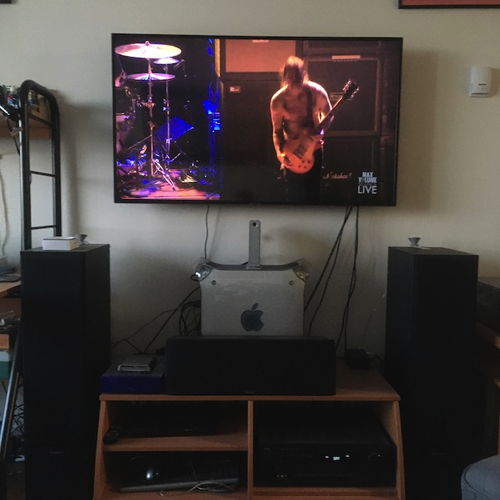 Coffee
One of the first things I practically panic bought and the first thing I bought online and picked up at a local store was a coffee machine. I usually get coffee at local cafes or at work, but working from home, you have to make your own or be forever tired. A coworker recommended a Nespresso machine. I had looked at them earlier in the year. I decided to get a DeLonghi because it was in stock at Canada Tire. It is nice, easier to use than the DeLonghi espresso machine someone gave me, the milk frother is particularly sweet, but it wasn't cheap. I could have bought it before Covid-19 after Christmas for less I imagine, getting the capsules proved more trouble. You can order them from Nespresso directly but third party pods are available at some local stores. A coffee machine is definitely needed for a home office, but I am definitely eating more snacks and of course no gym, so I am getting fat. I was doing calisthenics until I hurt my shoulder somehow. I try to take my coffee black, but sometimes I make mochas. If I did this all over, I'd consider getting the new system and capsules, but this was my most panicked purchase.
I'll update this post when I get more cables from Amazon, likely next month, but it was high time to update my blog and share some of the links and pictures wider than just on Microsoft Teams and other chat apps. If you have advice on living and working during the time of the Coronavirus you can leave them below.
This entry was originaly posted on , it was last edited on and is filed under: Information Technology and tagged: Calgary, Coronavirus, Working From Home.