December 19th, 2005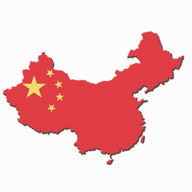 So I finally get to go to the conference I paid so much to attend. I think the price turned off a lot of people. Most of the audience seemed to be members of the media or guests. I got there so early they even gave me a guest tag though I was a paid attendee.
I ended up taking 13 pages of notes in Word. Emlyn advised me to edit. I also have just drank 7 free beers at the Tsinghua MBA exchange student going away party. I guess I'll just choose the best points I noted down from the better speakers, ie those that were in English and call it a blog posting. I have so much to do and so little time and energy.
Ian Champman-Banks
Nicholas Negroponte
Adrian David Cheok
Director, The Interaction and Entertainment Research Center Nanyang Technological University.
Daniel Alegre
Google Director of International Strategic Partner Development, Asia Pacific, and Latin America
Chris Reitermann
Managing Director, OglivyOne Worldwide China
Venture Capital and Multimedia
Moderator: Don Hsi CEO Hen Bang
Panelists: Hans Tung Bessemer Venture Partners,
Aaron Wen Orchid Asia Group Management Limited,
Richard Hsu Intel Capital PRC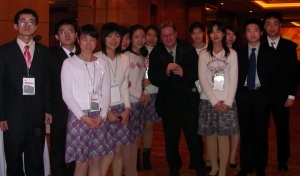 As I was getting ready to leave for the day and run off to the Tsinghua MBA foreign exchange student farewell party, I stopped and got my picture taken with some girls wearing skirts. It turns out they were not just pretty faces hired to hang around but were actually volunteers from a local university and were all International Relations students. I probably earned some brownie points saying I knew how hard of a job it was volunteering at a conference, having done it myself. I further endeared myself to them by giving them all Tsinghua business cards. I swear I gave out half of the business cards I got on Friday already.
I wasn't a major networker, there wasn't that good of an opportunity except at lunch and the end of the day. I figure most of the people there were official guests or media, as a result I got a lot of business cards from VCs and members of the Chinese media. One particular media member who ate lunch at the same table as me and who was either laughing at my poor Chinese or my discriptions of the Japanese may feature more prominantly in future tales.
I guess I should also mention that I still have those free dinners for two and that I am looking for a job if anyone bothers to read down this far. You can of course leave questions and comments below too.
This entry was originaly posted on , it was last edited on and is filed under: Information Technology and tagged: China, Conference, Nicholas Negroponte, Venture Capital.