January 29th, 2006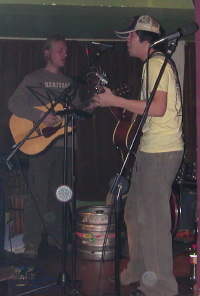 I've spent an ungodly amount of time in Lush today trying to fix my blog. I googled like mad, tried random code from the web. I also added a bunch of plugins and listened to a half dozen people play at the open mic night. This guy from Austin keeps playing acoustic reggae songs, I even called Emlyn to tell him. There are only a few diehards and alcoholics left.
Me with my Mac trying to fix my stupid blog, my ass is so sore. I didn't plan on drinking today, Cava's internet didn't function so after my pot of tea was done I went to Lush. I hardly ate anything today, just some fried rice. Last night was quite the escapade, I would blog about it, but my blog is busted.
This entry was originaly posted on , it was last edited on and is filed under: Asia, Information Technology and tagged: Lush, WordPress, Wu Dao Kou.