January 20th, 2013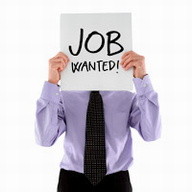 Self proclaimed experts continue to insist that jobseekers should blog. I've written well over 1000 blog posts and I have to say the more I blogged, the worse my so called career has gone. Other people may have benefited from blogging, but it isn't advantageous nor necessary for everyone to blog.
To paraphrase a famous quotation:
History doesn't repeat itself, bloggers merely repeat each other.
Max Gladwell's Top 10 Reasons to Blog while Unemployed:
You're an expert. Now prove it.
You've got time on your hands. Use it.
Stay sharp and on the cutting edge.
Produce something and create value.
Network with fellow bloggers.
Make yourself discoverable.
Establish your brand.
Master the craft and position yourself accordingly.
Forget about advertising.
Build an audience.
Diane Cline had the top 10 Word Of Mouth marketing tips for Grad Students, but her post seems to no longer be online, so much for "Make yourself discoverable". Here are her pithy tips:
Be nice.
Don't gossip.
Think about your personal "brand".
Maintain and build relationships with others.
Work on your self image.
Be remarkable.
Help others.
Leave places better than you found them.
Be appreciative.
Being remarkable in your field and being a remarkable person are two different things.
On January 16th Chris Abraham became the latest to advise job searchers to blog more. I'm just not convinced that is the answer. Eric Shannon has a job search guide which I've previously recommended on my blog but it hasn't worked for me either. I've read and collected a lot of 'expert advice' on what to do to find a job. No amount of blogging can overcome what other people have said and done and writing about your life online, doesn't make it better.
 More 'Expert' Advice on Why You Should Blog
If you have thoughts on blogging during your job search and to help your career you can leave them below.
This entry was originaly posted on , it was last edited on and is filed under: Marketing and tagged: Blogging, Diane Cline, Job Search, Max Gladwell, Top 10.