February 8th, 2006
Ting and I eventually met. We went for lunch and then on another day we went for dinner. She invited to me to come visit her home town which is apparently near a very famous mountain. She seemed to think that May was the best time to visit.
I told her it was highly unlikely I would be in China in May.
Anyway here is her picture, you can judge for yourself just how pretty she is.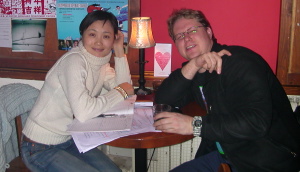 This entry was originaly posted on , it was last edited on and is filed under: Asia and tagged: China, Chinese, 美女.