April 18th, 2006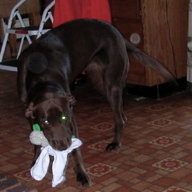 …Peanut Butter Power Bars. Actually she loves anything to do with peanut butter, but she seems extra extra keen for Peanut Butter Power Bars.
It is an expensive treat for a dog, and I started buying them for us when we did our long walks to Bowser. We haven't walked to Bowser yet this year, but she has inexplicably been a really good dog today, so when we went to Bowser I bought one.
I went to Bowser to order another piece of what I've dubbed the doggie detention center. It is a fenced in portion of our yard that extends to include one of our decks where Huuna can be outside but not run crazy. She doesn't particularly like being in the detention center, she would rather be left in the house if she is to be left behind. This final piece is a small gate to go at the top of the stairs on our deck.
I need some decent weather and a burst of energy if I am going to finish it. I also need to go to Home Depot for hinges and latches for the gates.
Tomorrow night Huuna and I have agility training again.
This entry was originaly posted on , it was last edited on and is filed under: The Good, The Bad, & The Ugly and tagged: Bowser, Dogs, Family, Home Improvement.