November 21st, 2006
Yes the New York Dolls, two of the original members aren't dead and they decided to reunite and tour and somehow the Supersuckers are their tourmates. I don't think there are any Canadian dates at all, it is pretty much a US tour.
Anyway Eddie Spaghetti writes some notes from the road, that used to just come to fans via email but now shows up online at Supersuckers.com. They also have a MySpace blog which often has duplicate content with their main site but sometimes it is different.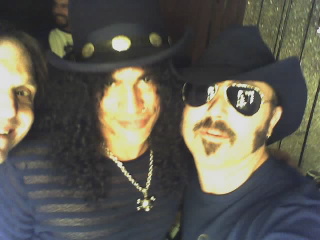 Anyway some of Eddie's ramblings and observations are funny. Of late he has taken to using his camera phone to take pictures of various celebrities that have shown up to see the New York Dolls, such as Slash from… I don't know what band he is in right now, certainly not G&R. I saw a tv ad for their tour and they don't even seem to have Buckethead on guitar anymore. I mean if you are going to replace one guitarist famous for his hat with another you should at least choose someone who plays guitar with a KFC bucket on his head right?
Now who does Guns & Roses have? They should rename the band Axel and the Lawyers.
Slash is doing fine besides the Snakepit there was Velvet Revolver and I imagine he still makes money from the G&R back catalogue somehow, not to mention his appearance in the VW advertisement.
This entry was originaly posted on , it was last edited on and is filed under: The Arts and tagged: Music, Slash, The Supersuckers.