January 10th, 2007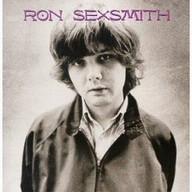 I got an email today from Cathy Hendrix who is part of Ron's management informing me he would be on TV, so I stayed up until 1:30 AM apparently to see Ron play on my birthday.
I'm a big fan of singer songwriters. And I kept hearing good things said by people I respect about Ron. He eventually recorded an album with Steve Earle down South and that was the first album of his I bought and still possibly my favourite. I may have checked him out live before that album came out, I've seen Ron play a few times, three I think all at different venues in Vancouver.
Who was backing Ron?
I've seen him solo but he had a three piece band with him on TV. The usual guy was playing guitar, he's also in The Supers who I've seen open for Ron. He had a Bigsby but he didn't use it much and he had his pile o' pedals. The drummer was different. At first I thought it might be Tyler Stewart because all chubby shaved headed white guy drummers look a like. It wasn't Tyler, but it also wasn't Don who has played with Ron for a long long time. They even released an album together. Don even left the Rheostatics to play full time with Ron and run his studio. Don Kerr is a great drummer.
Ron's Guitar Picking
Ron played a new song off his new album and played acoustic guitar. He sometimes plays piano/keyboards, he's been working on that more. I even remember him doing a Tom Waits cover on keyboards one time. He's kinda the opposite of Marlene Lau who took piano lessons then taught herself guitar. He didn't use a pick and played the base strings with his thumb but also up strummed with his index and middle fingers. Conan asked him about it at the end, Conan plays a little guitar. Ron sometimes fingerpicks entire songs, but he has a less than textbook guitar technique, sometimes that is more interesting. He also had a capo on the first fret I think, maybe video will appear on YouTube or something.
A Songwriter's Songwriter
Ron is one of the best songwriters out there right now so I encourage you to check him out live or pick up one of his albums. I recommend "Blue Boy" and "Whereabouts" those are my favourites but I think I might be missing one or two. His songs are beautiful but oftentimes sad. It's no surprise I became a fan. I once quoted perhaps his most famous song, at least it was five years ago, to Owen's then girlfriend and she thought it was the greatest thing ever. Chicks dig Ron.
She wasn't the girl next door, but the girl from around the corner.
If you found the YouTube video of this performance or want to wax poetic about Ron Sexsmith you can leave a question below. I eventually saw Ron play again live.
This entry was originaly posted on , it was last edited on and is filed under: The Arts and tagged: Conan O'Brien, Quotations, Ron Sexsmith, Steve Earle, The Rheostatics.