August 21st, 2008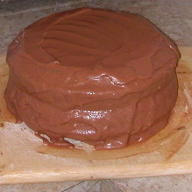 We had something of a work BarBQ so everyone was supposed to bring something. I used this occasion to break my five year baking hiatus and make another unique cake. This time I decided on a chocolate raspberry layer cake. It turned out OK, but I can do better, I think next time I'll work to make it more raspberry-er.
Cake Recipe
This is the cake recipe I've been refining over the years. I first used it to make a chocolate, orange, rum cake. This was a bunt style cake and I made that twice. Next I made "Inferno Jo's Bailey and Nutella" layer cake. The most recent incarnation will be a Chocolate Raspberry cake. Half all cake ingredients for a non-layer cake.
Dry Ingredients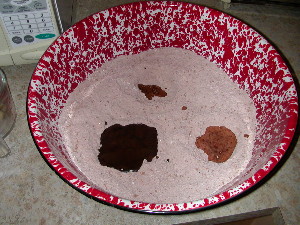 3 cups flour
2 cup sugar
6 tablespoons cocoa
2 teaspoon Baking Powder
2 teaspoon Baking Soda
1 small chocolate pudding mix
Mix in all dry ingredients in a bowl, make 3 holes in the flour mixture. In one put 2
teaspoons vanilla, in another put 2 tablespoons vinegar, in the final one put 10 tablespoons melted butter or vegetable oil.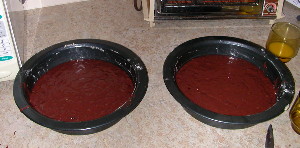 Add 2 cups luke warm water and the two eggs. Mix and divide between two floured and greased pans. Add chocolate chips if desired.
Bake at 350F degrees for 1/2 hour. Then start checking with a tooth pick to make sure it is done all the way through every couple of minutes.
After cakes have cooled put layer between the two halves. I used a raspberry spread I bought or perhaps it was homemade jam, I've forgotten.

Icing ingredients:
3- 4 tablespoons of butter or margarine
1 cup Icing Sugar
Cocoa or food coloring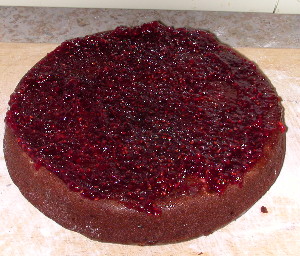 Add milk or icing sugar as necessary to reach the right consistency, add in small portions, also cut butter into small chunks. Do yourself a favour and use an electric mixer.
May need more to make more icing, you'll definitely need more than a cup of icing sugar most likely. Baking just one cake is expensive because you have to buy all the ingredients even those you only need a pinch, a dash, or a teaspoon worth.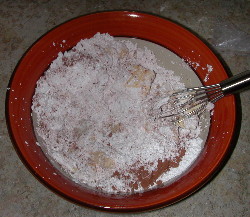 When I was home from China I made another version of this cake. I think I had white icing and put fresh raspberries on top. An electric mixer really helps with making icing. I am now updating old blog posts to try and improve the Quality and focus of this blog. If you tried my recipe let me know how it was.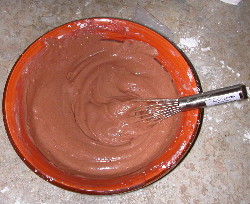 I went and found a picture of the most recent cake I made following that recipe. A post like this should be rewritten to use the correct structured metadata that would get me more influence on Pinterest. One disadvantage of using white icing on a chocolate cake is you need to put it on extra thick.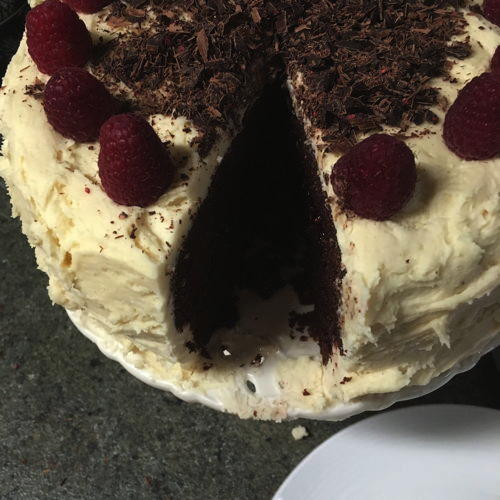 This entry was originaly posted on , it was last edited on and is filed under: The Good, The Bad, & The Ugly and tagged: Recipe.