February 13th, 2010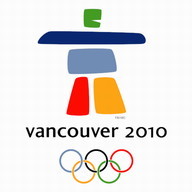 And then somebody dies…
.
.
.
.
The Opening Ceremonies had not even began when the naysayers had something else to crow about. I said all yesterday I hope they don't. Complaints about traffic, costs, weather, snow, sponsorship, begin to look more trivial compared to someone's life. Maybe people will realize how good life really is in Vancouver and that people are trying to make it better, constructively or maybe they'll keep chanting "K-K-Kanada, Shame on you for living in K-K-Kanada".
Nodar Kumaritashvili
Nodar Kumaritashvili was only 21 and died doing what he loved, representing his country on the highest stage. He never even got to march into the stadium. I was actually quite pleased with how it was handled given the sudden sadness of it all. The Georgian team solemnly pledged to continue the Games and to dedicate their efforts to their fallen teammate. The IOC and VANOC acknowledge the tragedy and the moment of silence was even observed in the bar where I was watching the opening ceremonies. Someone in the corner yelled "Stand up, take off you hats" and damned if almost everyone did and stood silent staring at the TV for an entire minute.
Opening Ceremonies
The rest of the opening ceremonies was all right, but a bit long. The highlight was k.d. Lang singing Leonard Cohen. I had to inform the Australians that Leonard Cohen was indeed Canadian. Our flag-bearers and torch lighters were for the most part good choices, but I haven't forgotten about Rick Hansen getting arrested for driving while impaired. I guess that is something him and Gordo have in common.
Bars Were Busy
We enjoyed speculating where they were taking Wayne Gretzky in the rain, but when we left the bar we quickly found out we weren't getting in anywhere else. The Artwalk appeared to be a big success and every place selling alcohol in Gastown seemed to be raking it in for the most part. I'm actually concerned about getting into the live Wilco concert tonight. I dressed for rain, but I also have my backpack so I can update my blog from the cafes.
There's a riot going on
Today's update comes from Our Town on Kingsway at Broadway. Today was actually the first true day off I've had in a long time so I took it pretty easy this morning and didn't check the news. Apparently our first "riot" has taken place. It is unfortunate a vocal minority was unable to keep themselves from destroying public and private property. I don't think they were thinking of Nodar Kumaritashvili or his family or the children they scared at Robson and Georgia.
In further proof that the line between professional journalist and citizen journalist isn't that thick I give you the following phrase:
Pedestrians ran for cover and crying children nearby could be heard crying.
Olympic Torch Photos
It is getting late in the day and I had a collection of links to post and dozens of photographs that I put on Flickr already. The Olympic Torch came to Chinatown and I was there, I was missing a few minutes of work, but even Brian conceded that was acceptable. BOB's blog has an account, but I wouldn't be surprised if it gets edited at some point.
Are the Games Green?
Before the accident critics were questioning the greenness of the games. VANOC at least tried, but any event of this nature as the world runs out of oil is going to become more expensive and less practical. Maybe someday there will be virtual Olympics or maybe only the athletes will be there, everyone will watch on some 3D immersion simulator perhaps.
It's not all Doom and Gloom
The international media and their portrayal of Vancouver especially the notorious DTES where I watched the opening ceremonies and saw the torch has drawn criticism from Megaphone the street paper of the neighbourhood, written and distributed by residents, often very poor residents. I pointed this out to coworkers, as when Megaphone is saying you're being biased and not presenting a balanced picture, well they should know. Sean is down there everyday like me, he's at the worst corner arguably, he sees shit go down, but right across the street there was a pop-up gallery/store for Artwalk, which I think is the point Megaphone and BOB are trying to make. It isn't all doom and gloom.
Citizen Journalists Galore
My final link is one Kris Krug posted which he and Dave and others put together to help independent and citizen journalists cover the Olympics. Actually I found one other usual link which details all the free stuff going on, where, and when. My advice is to get there early and dress for rain.
Bonus Links
This entry was originaly posted on , it was last edited on and is filed under: Sporting Life and tagged: Olympics, Vancouver, Vancouver 2010.