April 8th, 2010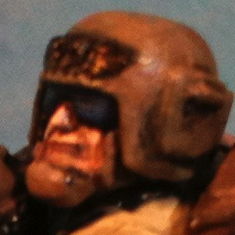 It took longer than it should have, but it always does. I had to stay up a bit late to get it done, but I wanted them out of the way so I could work on more important stuff. Plus I still need to find a job. I tried Tatsunoko VS Capcom online and lost all 5 games.
Anyway I bought some beer and the second one was quite strong, which made painting the eyes and flames of the Khorne Bezerker… I also managed to splatter some black paint on his carefully painted red knee pad. It is hard to cover black with red, especially after I went through all the trouble of doing the gradient.
The Imperial Guardsmen will get some mud and dirt while the Bezerker will get some blood, but first I will take pictures before I try to dirty them up some more. I need to get a darker red on my next bezerker and I will be practicing on demons, but I will also be cleaning off my painting table some and cranking out some of the 24 one foot by one foot terrain tiles I plan to make, hopefully in time for Astronomi-con Vancouver.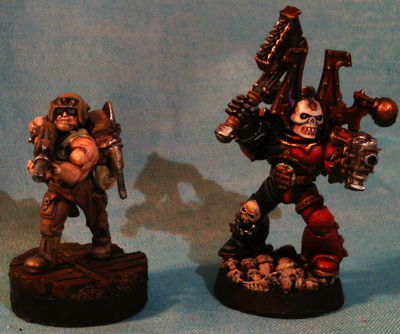 A second blog post was written about this Imperial Guardsman and Khorne Bezerker where you can seen the blood and gore and weathering techniques. Now many years have passed and I've lost a lot of my miniature painting skills.
After I moved to Calgary I finally got my models and paints out of storage. Many paints had to be tossed and many miniatures are no longer armed correctly for the current version of the rules but I did finally play another game of 40K. In 2022 I hope to paint more and Covid allowing play a few. If you have thoughts on painting miniatures you can leave them below.
This entry was originaly posted on , it was last edited on and is filed under: Gaming and tagged: Imperial Guard, Khorne, Miniature Painting.