April 8th, 2010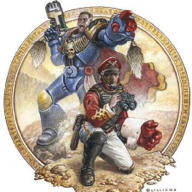 It took longer than it should have, but it always does. I had to stay up a bit late to get it done, but I wanted them out of the way so I could work on more important stuff. Plus I still need to find a job. I tried Tatsunoko VS Capcom online and lost all 5 games.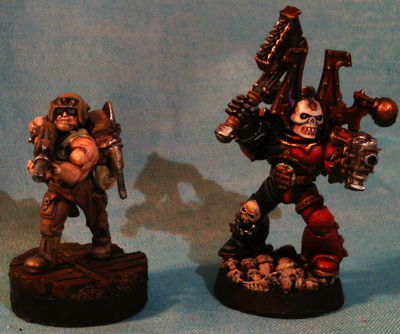 Anyway I bought some beer and the second one was quite strong, which made painting the eyes and flames of the Khorne Bezerker… I also managed to splatter some black paint on his carefully painted red knee pad. It is hard to cover black with red, especially after I went through all the trouble of doing the gradient.
The Imperial Guardsmen will get some mud and dirt while the Bezerker will get some blood, but first I will take pictures before I try to dirty them up some more. I need to get a darker red on my next bezerker and I will be practicing on demons, but I will also be cleaning off my painting table some and cranking out some of the 24 one foot by one foot terrain tiles I plan to make, hopefully in time for Astronomi-con Vancouver.
This entry was originaly posted on , it was last edited on and is filed under: Gaming and tagged: 40K, Astronomi-con, Imperial Guard, Khorne, Miniature Painting.