January 6th, 2011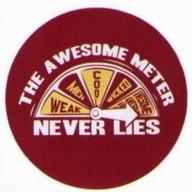 There are a number of ways you could enjoy my favourite music. You could pop by and listen to some sides on my stereo which is almost back to fully functional, or you could take a peek at my loved tracks and most frequently listened to artists on Last.fm. Now you have a third and potentially even more exciting option, I've created a mashup devoted to my all time favourite songs.
This mashup uses the code I've previously posted, but I've revised and expanded it. I've also created a subclass and added token support for yet another API, this time it is YouTube. My code still needs some more work as Amazon is still throttling me on occasion and even worse despite following examples and consulting documentation I still can not get track listings or more specifically previews out of Amazon using PHP. I can often get a preview from the iTunes music store, but no search algorithm is perfect and no online store has all the music I listen to.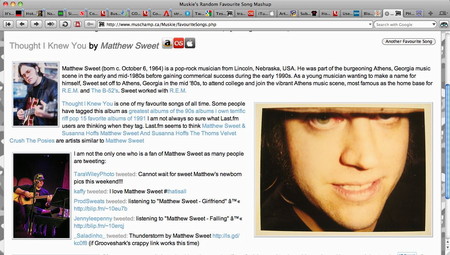 I've also continued to make use of Flickr as well as limited integration with Twitter and Facebook. I'm going to take a slight break and let other people poke at the thing and hopefully some of the code too. Then I'll either create yet another mashup, or just majorly refactor my code, or perhaps just try to debug one or two methods that Amazon seems to be not cooperating with.
Here listed for posterity are now 48 songs that I marked with five stars in iTunes and then loved on Last.fm.
If you still need more awesome? Let me direct you to my main music page, I've been growing my concert t-shirts collection.
This entry was originaly posted on , it was last edited on and is filed under: The Arts and tagged: iTunes, Last.fm, Music, PHP, Web Mashup.