January 6th, 2011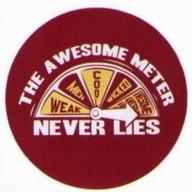 There are a number of ways you could enjoy my favourite music. You could pop by and listen to some sides on my stereo which is back to fully functional, or you could take a peek at my loved tracks and most frequently listened to artists on Last.fm. You had a third and potentially even more exciting option, when I created a mashup devoted to my all time favourite songs.
This mashup uses the code I've previously posted, but I've revised and expanded it. I'm not sure it works 9 years later, maybe I'll upgrade it someday.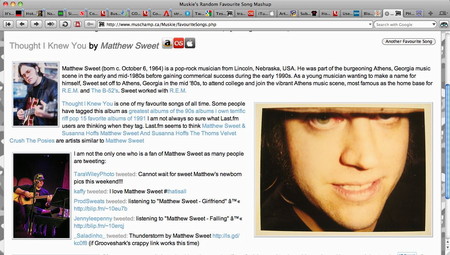 Here listed for posterity are 48* songs that I marked with five stars in iTunes and then loved on Last.fm.
9 Years Later
And I finally decided to rate another song five stars in iTunes/Apple Music. The song I finally decided to give this rating was "Leave Something Behind" by Sean Rowe. This is the song that plays over the closing credits of the movie, "The Accountant" which I saw on a plan flying between Canada and China. I like it and bought it online. Several years later I finally decided to rate it five stars.
The original list is below:
If you still need more awesome? Let me direct you to my main music page, I've been growing my concert t-shirts collection.
This entry was originaly posted on , it was last edited on and is filed under: The Arts and tagged: iTunes, Last.fm, Music, PHP, Web Mashup.