August 29th, 2012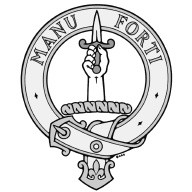 My genealogical research continues, with my grandmother taking an interest and offering to fund it, so I broke down and joined Ancestry.ca. I had already consumed most of the documents in my immediate families possession, read books, searched the Internet, asked questions, and put everything I knew into Reunion 9. This enabled me to export most of the data in a special file format invented by the Mormons.
Mormons started and still own the largest genealogical site on the Internet. They've digitized and typed out documents that various governments couldn't be bothered to, then they sell you access for about $30 dollars a month. I already had a large and detailed family tree, but it got larger. Unfortunately as the day went on the people I was adding were people I didn't know, would never meet, and didn't really care about. You can stick to just the official records, but if you look at other trees posted online you can make bigger leaps, but you can also get sidetracked. The information in these trees can also be wrong, but so can the official records…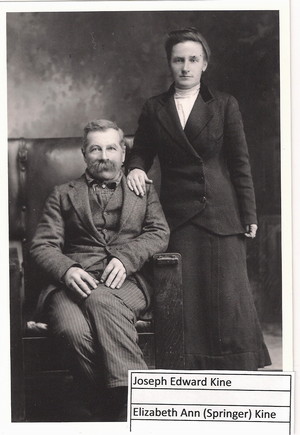 On the plus side I found a bunch more Kine ancestors even pictures of what must be my great-great-grandfather on the Kine side. Supposedly you can export your tree and bring it back into say Reunion, but I haven't done that just yet. Merging trees is problematic. I have a three month membership to Ancestry.ca, but I can look up data from around the world. I did save that picture to my computer and now can include it in say a blog posting.
Before joining Ancestry.ca I went through a box of old newspaper clippings and yet more information people sent me about the Muschamps. I used my iPhone to digitize some if not all the old newspaper clippings, so I can include them in the blog post and other people can read old Toronto Star and Cowichan Leader articles. They are below and also on Flickr.
I also finished reading "How the Scots invented Canada" the author of which, Ken McGoogan also did genealogical research before or during writing of the book. He encountered the problem that most people will encounter, after about 1841 information gets really scarce. 1841 was the first census in the UK, after that they were carried out about every ten years. Ancestry has the information along with Canadian and American census data. Before 1841 you have to rely on parish church records or get lucky and have an ancestor who did something notable. Notable in the genealogical world includes owning property but also earning a commission in the army or holding some other important post, most of my Irish and Scottish ancestors were farmers, though some of them must have fought in a war at some point. Ancestry has WW1 records but less information about WW2 and none on the wars of the 1700s and 1800s, something I will have to research more given all the fighting the McKays did.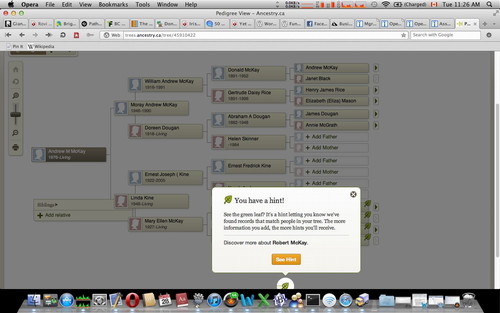 Ken McGoogan resorted to the newest trend in genealogical research, DNA analysis. I'm pretty much a Northern Barbarian, I always told the Chinese that, but I have some Native American in my ancestry which no one ever believes because I have blond hair and blue eyes. I should have some Viking ancestry and of course as a McKay/MacKay I should be ultimately Pictish. It might be fun to get my DNA tested someday, but for the next little while we'll see what I can turn up in Ancestry and other online sources.
After clicking for hours I decided I need to pick a few ancestors and concentrate on them, not just add not terribly well documented distant ancestors and relations. Here are the ancestors I'm currently researching and in some cases have been researching for years:
Norah Anderson was one of my great grandmothers. She was married to Ernest Frederick Kine who now has a lot more ancestors thanks to Ancestry.ca, Norah has none. I started to wonder if we spelled her name correctly. She supposedly remarried but I can't find any marriage info whereas I found her husbands death record and consequently an extended family tree. She came from Ontario around Thunder Bay, but with a name like Anderson should be of Viking stock. I will be looking for Nora and Andersen perhaps too.
Donald-Angus-Donald is how my McKay line supposedly ends, this is the line that came from the Northern tip of Scotland and presumably was forced off their land by the Countess of Sutherland. McKays spread all over the worlds, I may have found some distant cousins in Australia in Ancestry, but there were many Donald McKays and Angus McKays living in Scotland in the 1800s. Sorting this out and finding the last Donald and his father before him will not be an easy task. My ancestors may have come from the Parish of Rogart and lived for a time in Lanarkshire. Some McKays still live in and around Glasgow which I'm distantly related to. From the box of newspaper clippings I learned a lot about another Donald and Angus McKay.
Robert McKay 1829-1892 is an ancestor on my mother's side. They have always thought of themselves as Irish but as I informed my grandmother this morning, given that they came from Northern Ireland, were named McKay, and were Presbyterian, they ultimately must have come to Scotland. Some of them should be Ulster Scots, with connections to Northern Scotland, further proving I should be related to every McKay even the famous ones. I've attempted to find more info about Robert online before and blogged about that search.
Arthur Dougan is my grandmother's ancestor, the grandmother who paid for the Ancestry.ca membership, much is known about his son James Dougan. I may have found a tree and records for Dougans that went to Australia and Dougans are all over the early Vancouver Island censuses, but Arthur probably never left Ireland. He may have lived on the same family farm until he died. This family farm is not far from where Robert McKay's ancestors lived in Ireland, County Antrim and County Derry are places to visit and research for me and my family. Update one of the genealogical forums I left my questions on has come through with a lot of information about Dougans in Ireland in the 1800s.
Emerson Muschamp or one of many Emerson Muschamps, there have also been many John Muschamps. I've done a pretty good job of sorting them out back until about the 1500s and there are many family trees that include a Muschamp on Ancestry because the name Muschamp or Du Muschamp appears on the list of people who fought in the Battle of Hastings and Muschamp was on the winning side and scored land in Northumberland out of it. I or others may have found all there is to find when it comes to Muschamps, but as a documented and old family name it is popular to research online and there are a lot less of them than McKays…
Now for a couple of pictures, I put all of my quick iPhone snaps on Flickr, my sister was supposed to digitize a lot of old family documents, but she seems to have other projects to work on. I need to find a job myself. I'm not expecting any miracles from my first 3 months on Ancestry but lots of people seem to have fun clicking on little green leaves, just remember not everything you read on the Internet is true, unless of course you read it on Muschamp.ca as I wouldn't lie to you. ;-)
This entry was originaly posted on , it was last edited on and is filed under: Canada and tagged: Dougan, Genealogy, McKay, Muschamp, Photos.