There is a lot of advice in the blogosphere on how to make your blog better or more popular. I'm not so sure there is a one to one relationship between quality and popularity which many people assume there is. Sometimes increased popularity is uncomfortable or problematic, whereas increased quality is almost entirely positive. One common piece of advice bloggers give other bloggers is what plugins to use, particularly WordPress plugins.
When I first started blogging I tried all sorts of different plugins. Some were cosmetic, some were social, some added features, some fought spam, some were just crap that made my blog run worse. I still think I have too many plugins installed currently. One area of obvious duplication is recommendations of additional posts to read. In theory this is a valuable tool, it helps users find more content they might enjoy, it helps promote older content, it might even help with search engine performance, but I don't think I need four different sets of recommendations.
Currently I use YARPP, DISQUS, Facebook Recommendation Bar, and my DIY solution. Yet Another Related Post Plugin is very popular I used it previously, but it conflicted with some other features of my theme. In particular it caused rendering issues with DISQUS and the social sharing buttons plugin I use. I'm a big fan of DISQUS and have used it for many years, in 2012 it too added a recommendation algorithm.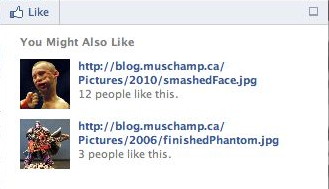 Facebook is the largest online social network, so when they released a new official WordPress plugin a lot of people rushed to install it. It has a lot of features, many I have no interest in using. I've been testing the Recommendation Bar and it doesn't produce particularly relevant results. It is supposed to recommend material my Facebook Friends like, which for me  always seems to be a couple photos I posted years ago. It doesn't matter what the current post is about, the Facebook Recommendation Bar always recommends the same thing. YARRP and DISQUS consider what post is actually being read when recommending related content. Facebook purely goes by popularity, even if the likes are half a dozen years old.
I never thought too much of my DIY solution. I just picked some posts that I thought were high quality or that analytics revealed were particularly popular over an extended period of time and added them as links in their own category in my sidebar. I then used wp_list_bookmarks to display five posts from this subset. My DIY solution does not consider what post is being currently read, but I have total control over which posts get recommended unlike every other option.
Does anyone use the Facebook Recommendation Bar? Is it useful? It seems to recommend not particularly high quality content and worse always recommends the same content, at least my DIY has some randomness.
Related posts:
This entry was originaly posted on , it was last edited on and is filed under: Blogging, Online Social Networks, WordPress and tagged: content, Disqus, Facebook, plugins, recommendations, related, YARPP.