August 25th, 2013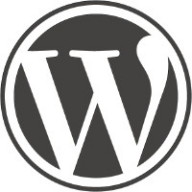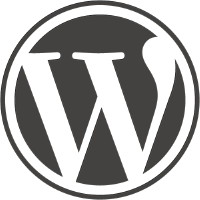 Although I've maintained a WordPress blog since 2005, I've only ever had the one theme. I made the theme myself back in the summer of 2005. I think a tutorial from Urban Giraffe may have provided the basis for my theme. I made sure my theme and entire blog fit within the already establish look, feel, and navigation of Muschamp.ca and I've dutifully updated the theme, every time a WordPress upgrade has forced me. I've also added many minor changes, but a look in the Wayback machine shows how little has changed until just the last few days.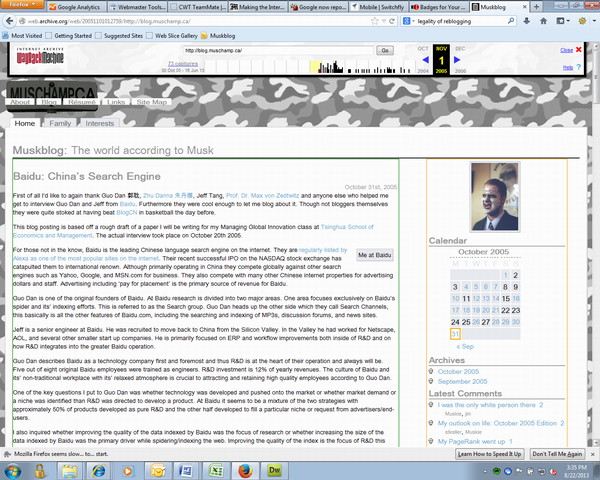 The Wayback Machine has some slight rendering issues, but you can see the familiar urban camouflage background, the content on the left, the sidebar on the right.  The orange and green boxes were me debugging some whitespace issue, and it was right around Halloween so apparently I changed my profile picture to be from the Halloween I spent in Japan.  You can also see several now 'old fashioned' WordPress blog features, a calendar and date archives.  My calendar is still around, though with no easy way to navigate to the date archives, no one should ever see it.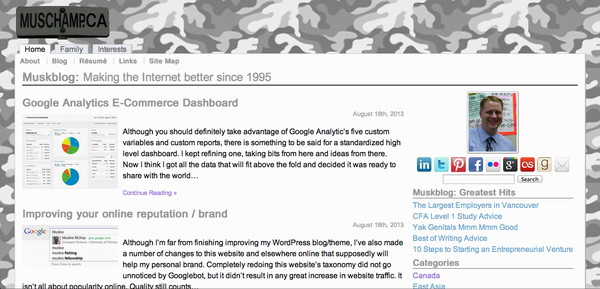 Yoast a name that has become synonymous with WordPress SEO is not a fan of date archives. He would advise having just category or just tag archives, not to dilute your Googlejuice with three versions of your blog archives. I don't always agree with everything Yoast or any SEO expert says, sometimes you have to make the best decision for the actual end users of your website, even if it isn't the optimal search engine optimization decision. That said I'm basically moving towards only showing category archives prominently.  I may eventually 'no-follow' links to my tag archives.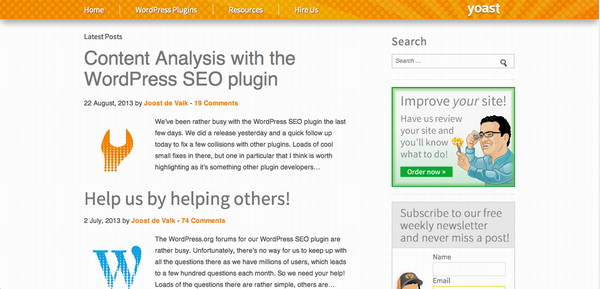 If you've ever made a WordPress theme or even just read some documentation you'll be familiar with "The Loop" and the_excerpt() and the_content(). For eight years I displayed the_content() on my blog's main page.  I finally changed this week because the web has become more visually oriented and people scan online, they don't read. Again I'm not sure if this is optimal for SEO purposes, but Yoast's website appears to use some variation of the_excerpt() as well as a featured image. I spent a lot of time adding this to my blog and going back and editing approximately one hundred posts to have custom excerpts as well as adding featured images to my most recent 16 posts.
The main guide I followed was by Steve Boneham. But I also had to consult the official WordPress documentation frequently, I particularly had difficulty getting the image uploader to work. Featured Images must be uploaded using WordPress' image uploader, for 8 years I've been uploading images via FTP or posting them to Flickr. Images in WordPress and on the Internet is a source of consternation as so often people repost something they found elsewhere. I try not to, but I'm guilty of this too. Some of my featured images for instance are logos of well known companies, I don't think Google, LinkedIn, or Twitter will be coming after me…
I'm pretty sure screenshots are not copyrighted, especially when taken of publicly available websites. More and more I include screenshots in my blog postings, especially technical ones.
I doubt changing from the_content() to the_excerpt() on my blog's front page will suddenly make me popular, ditto for all the time and effort I put into making my taxonomy closer to optimal. I just don't write about popular topics, but hopefully some of the content people actually find useful is now easier to locate. I'm not sure showing an excerpt is better for SEO, but I think carefully crafting a custom excerpt to entice real people to click reduces bounce rate for the people who do end up on your blog's archives.
I've also made a number of other minor changes to my blog's theme and Muschamp.ca, hopefully making it better looking, more search engine friendly, and even a tiny bit more professional. One of my big reasons for adding featured images to my blog posts was so I could have a thumbnail and an enclosure in my RSS feed. That doesn't seem to be a feature WordPress supports directly and after trying a couple of plugins I still don't think it is working. One of the reasons I need to make a new post is to test if new posts will have a thumbnail/enclosure. Once I get that working, I will overhaul my home page even more.
Leaner and Meaner WordPress Install
In 2019 I once again did a major overhaul of this website and blog. I am still updating the same original theme but I really think I should could consider tearing down the entire website and starting over with a more modern theme using best practices. Unfortunately, I am once again looking for a new job so I want my website up and looking the best I can make it in my spare time, which since I'm now unemployed I have too much of.
To that end I'm editing every single blog post I've ever made to fix grammar, links, and to improve both the first paragraph part of which I show as the_excerpt() and the last paragraph which marketers would refer to as the "call to action" so I urge you if you have questions on WordPress consult the official forums and documentation, but if you must you can leave a question below.
This entry was originaly posted on , it was last edited on and is filed under: Information Technology and tagged: Blogging, SEO, WordPress.