July 12th, 2014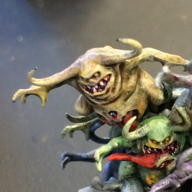 Yesterday at GW Highgate I got talked into painting a model. The first model I've painted in over three years. I stopped playing Warhammer 40,000 and painting miniatures to try and focus on the CFA exam and finding a full time job.
I'm still looking for a full time job. But I'm also between CFA exams and hopefully in a better place than I was three years ago. I doubt I'll ever recover from all the set backs in my life, but I just don't give a fuck what some people think about me anymore. I know the truth and so do a lot of other people. Google ultimately doesn't lie.
I'll probably keep this blog more professional but I'm not ashamed to be a gamer. I'm proud of the 1000s of hours I've put into painting miniatures. Maybe I could have done something more productive with my time, but I could of done a lot worse. I have hundreds of painted miniatures to show for my effort not to mention 100s of blog posts, maybe even some Klout. I've met some very interesting people through the online Warhammer 40,000 community, people who became valued professional contacts and friends.
Update: I've gotten in five games of the latest edition. My army will need a lot of work to be competitive even in casual random games. I don't have time or money, I need a new job and to concentrate on salvaging my career.
This entry was originaly posted on , it was last edited on and is filed under: Gaming and tagged: 40K, Games Workshop, Miniature Painting, Nurgle, Warhammer.