July 22nd, 2014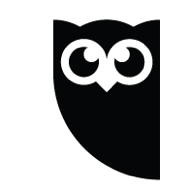 Tonight I headed down to HQ2, Hootsuite's newest office space, which is actually their third location if you count Alexander Street for the first public event, a panel on what needs to be done to create Vancouver's next great tech anchor. On stage were the CEOs/founders/cofounders of the following companies: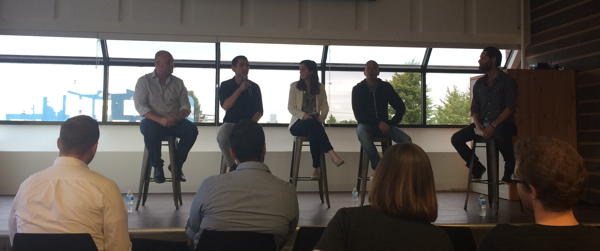 Here are my slightly edited notes from the event, all mistakes are my own.
Hosted by Ryan Holmes, CEO of Hootsuite
First official event at HQ2, after media tour
50% of audience has a startup
Rick Perreault, Unbounce 58 employees, 110 by next year
Kristine Steuart, Allocadia Software 40 team members, want to get to 70-80 in next year
Igor Faletski, Mobify CEO, firm is 7 years old with 87 people, 128 people a year for now
Jack Newton, Clio co-founder and CEO started six years ago, about 135 people today, a year from now will be about twice the size.
Clio is funded to the tune of 27 million now
Will you move your team to the Valley?

Allocadia didn't get asked this, though they have investors from the Silicon Valley.
Allocadia closed a 7 million funding round a few months ago.
Clio had investors who assumed they would move the company to the Valley.
Not important to be based in the Valley, but important to be present in the Valley, have a presence.
Mature ecosystem in the Valley

Benefits of being in Canada?

Unique market, part of the Valley ecosystem
Passionate young people with talent
Close to San Fran
Loyalty is higher in Vancouver
Clio still has their first five developers
Enterprise Software talent pool
Government Programs

Talent Challenges?

A challenge for every startup
No one knew Unbounce was here in Vancity
Don't have to move away after graduating
Hit critical mass, start to be known, start to get good talent applying to most positions

Vancouver doesn't sell itself to Silicon Valley executives
Need to build the ecosystem here in Vancouver
Need to make opportunities for young people (BeLikeAda)
Senior Talent crunch in Vancouver

Talent Pool and Competition?

Need to make the pool bigger
Amazon and Facebook coming and setting up campuses in Vancouver
Need talent now, can't wait for 18 year olds to go through University
Hire people who don't have traditional software background, but have a team leader who can enable them
Make it easier to bring in people from other countries
Hard to hire international people who graduate from VFS
Igor is an immigrant, thinks Canada has an edge on the US in this regard
Clio opened a Toronto office to find talent elsewhere in Canada
Can't wait for Vancouver to catch up

Best Move You Ever Made?

Focus on one customer profile
Relentless consistent focus on solving a business pain for your customer
Starting, walking into Small Business BC office at Waterfront Station
Fell in love with 37signals ethos, realized that with the dynamics of SAAS, you really want to be the clear market leader, initial fundraising round was 2nd best decision
Best decision was to the check SPAM filter, while fundraising

4 out of 5 have had acquisition interest, why say no?

Tremendous market opportunity and traction
Want to see how far you can go
Want to build the next Crystal Decisions here in Vancouver
Size of opportunity and excitement
If you exit early you miss out on two thirds of the journey
People aren't passionate about being acquired
Have to swing for the fences
Homeruns leads to the Maple Syrup Mafia
Want to keep going while you are having fun

Audience Questions:

What was your biggest mistake and what did you learn?

Tried to be everything to everyone, because we had no money.
Find something, win it, then go on to the next thing.
Not making the right hire at the right time.
Timing, sometimes product/feature one year too late or one year too early.
Clio stayed in bootstrap mode too long
Gut is usually right when it comes to hiring/firing decisions, have to be aggressive.
One of the best times ever to raise money for a startup is now.

Key hires and talent, challenges of migrating people to Vancouver?

Rick brought one person from Montreal, but everyone else was local and has been nurtured.
Take a chance on people who don't have the experience
Cost of living is astronomical so recruiting from Calgary or Edmonton is difficult
Have to be able to sell the vision
Have to find people who are crazy enough to want to do it.
Using options to get creative on how you make the math work
Vancouver is a bit of a hard sell on economics due to housing costs.

What needs to change in Vancouver to increase the number of anchors?

World Class Mentality needs to be developed, want to win/lead in a category
Make it easier to get the talent you need quickly
Be better at selling ourselves, not settling for being number two.
We need more VC money coming into Vancouver

Advice for people just entering the industry (engineer/developer)?

Come work for Clio, talent team is in the back wearing black shirts
Research the company you are interviewing for
Don't wear a suit to interviews with any of these companies.
Don't apply for a job, pitch an opportunity
Meetups for developers
Show interest in company and market
Find a company that makes you happy

Sales Projection Accuracy, reality VS projections?

Doesn't matter, as long as you're thinking about sales
Average contract value:

LTV $12-1500 for Unbounce, $78 dollars per month
$60,000 in sales first profitable year, increased to $400,000 in the next year at Allocadia. Want to get traction.
Mobify: forecasting is about identifying a range of outcomes, typical deal is 2-3 years for a quarter of a million dollars
Clio: plus or minus 100% once you find your product fit
Make sure you are in a great growth market
Be careful on fixation on the downside instead of upside

Are schools in place doing a good enough job in training talent?

Hootsuite is working with VFS
Get every smart kid out there into engineering/computer science
Do a better job at attracting Canadian graduates to Vancouver.
Easier to pitch Vancouver lifestyle to new grads
Risk aversion inherent in Canadians

Pro/Con of big American companies coming to Vancouver in terms of talent?

Pro it attracts attention
Ultimately a good thing, talent wants options
Ryan sees two problems, one sucking talent South of the border, using Vancouver as a holding pen for internationals, PR people like the big American companies rather than giving coverage to Canadian startups.
All the companies on stage are hiring, trying to double in size in the next 12 months, for the record, I'm available.
Update: For the record I'm again available in 2019. I've now spent several years working in China and passed all three CFA® exams. I also know a lot about WordPress, PHP, CSS, HTML, JavaScript, SQL and SEO. Hopefully my latest, greatest WordPress upgrade and overhaul will lead to search engine dominance or at least some better blogging.
This entry was originaly posted on , it was last edited on and is filed under: Entrepreneurship and tagged: Allocadia, Clio, Hootsuite, Mobify, Unbounce.