March 13th, 2016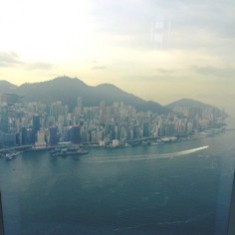 I get invited to travel to places. Usually I say no, I'm busy, I'm broke, I have to study, or I've already been there, but I had never been to Hong Kong so I spent a weekend there recently. You really need more time, I only stayed one night so I splurged on a single night at the Ritz-Carlton Hong Kong after reading that it had the highest fitness facility in the world, the 118th floor.
You can visit the gym or the spa without being a guest of the hotel but of course it costs. Since I was to get a contract renewal bonus I splurged, alas there was some cockup in accounting and I have yet to be paid my bonus, I really need a better job. In addition to a gym on the 118th floor there is a night club and a pool. The pool really is the best part. There is a hot tub of course, so you sit outside on the 118th floor. You get the same view from the treadmills and but it's just not the same. The pool looks towards Hong Kong Island as the hotel is in Kowloon.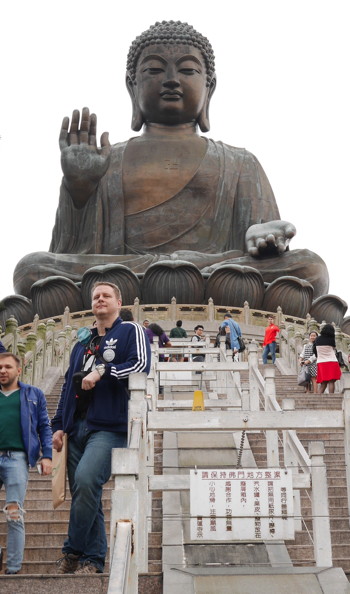 Our room was on the the 107th floor it was of course super nice even though it might have been the cheapest room in the whole hotel, we had the same view of Hong Kong as the pool. The coolest thing about the room is your name is on the TV when you turn on the master power switch, or at least the person I shared my room with's name was on the TV, mine never appeared. The blinds are also controlled by the master power switch so when you enter your room the lights come on, the blinds open, the air conditioning gets cranked. They definitely aren't trying to save electricity at this hotel, but you can adjust everything if you're feeling wasteful.
I really am supposed to be studying for the Level 2 CFA® exam and this really was my last trip until after the exam, but I wanted to type up something so I took a break from studying to battle the Chinese Internet. I previously put a few photos on Flickr, but I don't think I even shared them. It just takes a long time to do a quality job maintaining a blog and updating social media from behind the Great Firewall. Blogging isn't a big priority in my life, I may yet write about the recent changes to Pinterest (which isn't blocked) and tomorrow is my final TRT event Muay Thai at Oz Bodyfit, but in China it isn't about the blogosphere it is all about WeChat, so photos and news generally appear there first.
My next trip will likely be outside China I was researching Thailand but Sapporo and Canada are also possible. Even though George and my sister won't be visiting I'll still likely have to play tour guide in Shanghai if I continue to stay here longer.
This entry was originaly posted on , it was last edited on and is filed under: Asia and tagged: China, Hong Kong, Photos, Ritz-Carlton, Travel.