October 20th, 2021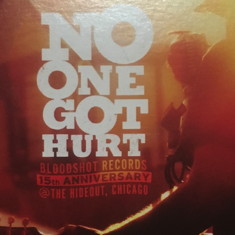 Today I learned my favourite record label may have died. Rob Miller one of the founders posted to Facebook that he'd given up trying to save Bloodshot Records which he co-founded approximately 25 years ago.
My peak music buying days may be behind me, but I still remember the first Bloodshot Records CD I bought, it was BS 024 also known as "Do you think about me?" I was a huge Neil Young fan back in the 90s and the Waco Brothers covered him and I learned about this, perhaps through the Rust List and I went to whatever lengths it took to acquire this track.
I still haven't seen the Waco Brothers, they apparently played Calgary Folk Festival in better days, but through that record, compilations, the Internet, music magazines like "No Depression" and "Magnet" I ended up acquiring a lot of Bloodshot Records or at least CDs. I acquired t-shirts, DVDs, LPs, stickers and maybe some other swag. Maybe I should order some more swag, but I already have quite the collection. But I think I must, Christmas is coming, there is a Bloodshot Christmas record but their children's record is better.
The Wacos were my first and original Bloodshot Records favourite but I have more Meat Purveyors CDs, I travelled to Seattle to see them. Murder by Death I think I've invested more in and would even claim them as my current favourite band but I've never seen them live. I've seen Scott H. Biram multiple times, he chatted me up once before Bog Log III went on. He knows his whiskey.
Trailer Bride is another Bloodshot artist I put on mixed CDs, Robbie Fulks is one of the finest songwriters going right now, if not him than who, Cory Branan? Then there are all the compilations, samplers, tribute albums, I got digital only releases, I had a very low customer number on their website, they've shipped CDs to me all over the place, even China. It's sad when your favourite band breaks up, this feels a bit like that.
My website is in a transitory period as my webhost has been bought again, but if you're new here you should check out the my favourite musicians and bands. Since I've gotten Apple music I can't use Last.fm like I used to and count scrobbles, nor do I listen to CDs or vinyl much, but Apple does have curated Bloodshot Records playlists, other services might too.
If you asked me back in the 80s what was my favourite record label was, I would have definitely said DefJam. If you asked me back in the 90s I would have perhaps said Fat Possum, but as successful as those record labels have become, I think I own more Bloodshot Records. I've seen DefJam recording artists, I've seen R.L. twice but there are so many great bands I got into through Bloodshot, I forgot the Detroit Cobras, at one point my most played song on iTunes was one of their covers.
Update January 16th 2022
As discussed on Twitter I still don't have the records I ordered from Bloodshot, but I knew it was a risk they would be slow in arriving. But today more bad news Rachel Nagy the cofounder and lead singer of the Detroit Cobras has died. No mention of Bloodshot in the Rolling Stone article but I dug up one more YouTube video, because they're a Bloodshot Records band to me. This is the song that made me a fan.
Update October 24th 2022
Over a year after I placed order #61246 I finally got a reply from the new owners of Bloodshot Records. This after me emailing them, messaging, even phoning them. Apparently they were under the impression all orders were fulfilled but apparently mine and a number of others were not. Amazingly I did not yet contact my credit card company so they will PayPal me the money apparently as currently they have no way of selling product direct to consumers but they can put my name on a list. Shame they never updated their website or social media for over a year, not an auspicious start to the new era.
If you want to know more about Bloodshot Records, I dug through my record collection and YouTube and I found this interview of Rob Miller from June 2020 which is more recent than the one dug up by the Chicago Reader. It has been viewed 82 times, I gave it the first like.
If you have a favourite Bloodshot artist be they Bottle Rockets or Old 97's leave a comment below. I'm just going to listen to my tunes and drink.
This entry was originaly posted on , it was last edited on and is filed under: The Arts and tagged: Bloodshot Records, Music, Waco Brothers.