October 4th, 2005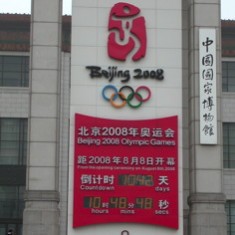 The good news is I once again have power and even internet access at my apartment in Beijing. I even had someone come and look at the place today. The rent at 2500 RMB per month is deemed a bit high, but the place is nice and big. Wu Dao Kou is a very easy place to live for foreigners, especially foreigners studying at Tsinghua.
I've managed to come down with a cold, I blame my first swim in probably 20 years and the unheated changing rooms.
I ordered two new CDs from Bloodshot Records and they arrived in a very timely manner. I've yet to listen to them but I highly recommend the Waco Brothers and the Detroit Cobras. I've also been using the iTunes music store to aquire the odd track here and there that I like, but don't have on CD, either because I never bought the album or I own it on vinyl or cassette.
Of final note I've been spending a lot of time at the Sculpting in Time cafe and I like it for the most part, but the apartment agencies are so cutthroat they tear down my ad for a roommate the day I put it up. It isn't the cafe staff that is for sure. I've learned of a couple other bulletin boards in Wu Dao Kuo but I've also posted it on CraigsList Beijing and That's Beijing where no one can tear it down.
Update: I have a lot of posts tagged China but not all of them had photos because bandwidth used to cost a lot more, I probably still pay too much but I also pay for Flickr where I've carefully curated my best China photos, one of Beijing is now included below.
This entry was originaly posted on , it was last edited on and is filed under: Asia and tagged: Beijing, Cafe, China, Expat, Wu Dao Kou.