January 18th, 2006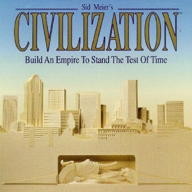 So I'm now reading "Guns, Germs, and Steel" and playing Civilization III. I've actually been doing more of the latter than the former, but I've done my share of reading recently.
I was told of this book by my classmate Troy. I'm familiar with the premise and some of his theories can be seen in Civilization. Germs are treated more like a natural disaster by the game than a weapon of conquest and means of subjugation. However you can clearly see how technological superiority, even by a country with a small population can overcome a much larger force.
Explore the world
My last game, which I lost, was my first on a huge map. This has a large effect on the game. For one it actually makes explorers and scouts of some use. It also makes the Age of Sail more important. However just because you are the first to explore the world, doesn't mean you'll win. I had no luxuries and few resources and there was little land to colonize. I did place a premium on my world map, but I should not have traded communication between the three main continents. That is a mistake I won't make again.
1421
I also just finished "1421: The Year China Discovered the World". So it and "Guns, Germs, and Steel" as well as over a decade of experience playing Civilization games have given me a lot of perspective. I try to play realistically. I don't opportunistically attack the weak and I try to pursue a course of non-conquest through trading and internal development. The third edition of the series has added several non-violent methods of winning the game, but conquest still remains the quickest and therefore often the highest scoring.
I've become adapt at trading and when necessary giving into demands to avoid going to war. I also build up learning and culture which is rewarded in the third version. It can serve as a non-violent means to expand your empire. I'm curious to see if culture is considered in the theories exposed in "Guns, Germs, and Steel".
God Wills It
The other missing 'G' is God. The Conquistadors, often the most vilified of the colonizing powers had a sense of self-righteousness. The Pope and therefore God had given this land to Spain. Attempts to convert the heathen led to a lot of subjugation and extermination.
Lonely Island
The other factor very much demonstratable in the game, is that Island civilizations develop less. In the game you know there are other peoples out there on other lands so you have an impetus to sail. You also know things can be researched, however in my latest and second huge map game, the Aztecs seem to have been stuck on a small island, big enough to support just three cities. It is possible though slightly risky to sail to our larger continent but it is full of four other tribes. As a result the Aztecs have become technologically backwards having no one to trade with and no land into which to easily expand. Although less pronounced than the peoples of New Guinea it shows how competition stimulates progress and neighbours though potential enemies can also be potential allies.
I wish for Non-Agression Pacts
That said in earlier versions of the games, some countries particularly the Zulus and the Russians in version one, could not be trusted. In version three I avoid Mutual Protection Pacts as they just get me embroiled in wars I don't want to be in. I know there is a way to cancel them, but I've forgotten how. Master of Orion 2 had non-aggression pacts which would be a good addition to Civilization.
Another tactic of MOO2 is supporting planets which are not suited to growing food by importing it. Civilization III doesn't have means to transport food, though it does have the concept of colonies. I have never made use of a Colony preferring to just setup another city to gain a resource. I don't claim to be the best player, I don't read online strategy guides. I just play for fun and I like to try things out rather than follow someone else's supposedly optimal strategy.
Multi-Play Civ
That is the advantage of playing against real people, which is finally available to the computerized version of Civilization III. Real people are much harder to figure out and make irrational and unpredictable decisions, a fact I'm painfully aware of.
Well enough of Civilization, the other two words in the title are Koreans and Calves, something my blog has become known for. I had lunch with Hyemi twice this week and I explained Civilization and some of the theories from the book and game. I told her I liked Civilization better than Sim City as it is more realistic, I like the historical sweep. I also think Civilization has always been a more challenging game than Sim City.
Now that Civilization Complete is out for the Mac, I'm eager to try some of the new Civilizations. Currently I play Babylon as it is scientific and religious. Once you get used to paying less for city improvements it is hard to give that up. Bowman aren't that great and I tend to favour defensive strategies and rely on superior culture and technology rather than trying to over run opponents early on. I can't remember every new race in the expansion but I know there are a few more scientific plus religious civilizations. The Koreans and Mayans make appearances and I will eventually try all the civilizations, but some don't fit well into my style of play so hold little attraction.
This entry was originaly posted on , it was last edited on and is filed under: Gaming and tagged: Civ III, Master of Orion 2, Sid Meier's Civilization, Sim City.