March 15th, 2007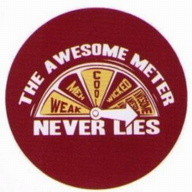 That was the title of one of the many mix CDs/tapes I've made over the years. I made this one for my former co-worker Pierre Carrette who liked a lot of those 80's hair metal shred maestros. That's not really my musical genre of choice, but you'll never hear me say they can't play. I just think music is about passion more than proficiency and you can quote me on that.
The very first track on my mix CD is Johnny Winter playing Bob Dylan's "Highway 61 Revisited" which blew me away when I saw it on TV. Since then I've added a lot of CDs to my music collection and studied the guitar some myself. As great as Johnny Winter is, one guitarist I included who has to be seen to be believed is Junior Brown.
Now a dozen years later all but one of the video clips as stopped working so I will just visit YouTube and try to find another one that violates less copyright law.
I saw Junior Brown play live on TV once, possibly on Austin City Limits and I was like "Damn". Some guitarists they get in the studio, they multitrack, they got unlimited takes, they got session musicians, they got Pro Tools, but live you can still do some trickery but in the end you got ten fingers and six strings for the most part. Through the miracle of YouTube I found the exact Junior Brown song I put on my mix. It is different than the studio version, the footage isn't the best, but Junior Brown throws more licks into this one song than most guitarists have in their entire repertoire.
The bottom half of the "guit-steel" isn't just for looks, he had it custom built as he switches freely between the two necks mid song, he also detunes his guitar mid song too. I'll have to dig up footage of that. He had a salsa commercial, even a Gap ad, plus music videos. Some of his songs are a bit corny, but he can play guitar. I tried to explain Junior Brown, Johnny Winter, even Robert Randolph to my Chinese guitar teacher. I gave him a copy of the mix CD and the sequel I made for Marlene Lau, but he wanted to see pictures of all the guitarists, which I dutifully found, this was just before the rise of YouTube, because a stock photo, even a shot of him playing live doesn't have the same impact as seeing him play live.
Here is a Johnny Winter clip, the original got taken down, originally he just walked on stage plugged in, tested his guitar and kicked ass. A lot of bigger name guitarists like Clapton, Harrison, Ronnie Wood were at that gig, but he and Neil kicked the most ass on guitar, Clapton did a nice rendition of "Don't think twice it's all right", but Neil actually took Booker T and the MGs on tour because he had so much fun playing with them.
Astute readers of my blog or some popular guitar forum will note that I didn't put either Junior Brown nor Johnny Winter on lead guitar in my dream band. I went with Robert Randolph. I saw a clip of him on Japanese TV and I went right out and bought "Live at the Wetlands" and have been preaching the gospel ever since. Here is a clip of him and his band doing probably still their most famous song, (the one I saw the music video for) on David Letterman.
I dig the funky base his cousin plays in The Family Band and they know the importance of the Organ. When I was talking to Marlene's friend Steve about music, I told him I'd like to learn to finger pick slide guitar, with the slide on my pinkie like Johnny Winter or Colin Linden and we both dug crazy 70s analog keyboards and electric organs. I made sure my dream band had a hell of an organ player in it, Garth Hudson of the Band.
This entry was originaly posted on , it was last edited on and is filed under: The Arts and tagged: Guitar, Johnny Winter, Junior Brown, Robert Randolph.