August 18th, 2008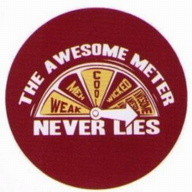 Converted to the Scott H. Biram Church of Ultimate Fanaticism and the Bob Log the Third appreciation society.
Anyone who wasn't at the show last night should hold their man or womanhood cheap.
The show started late, Scott told me there was an accident on the freeway plus of course the lovely boarder guards to deal with. Scott just started chatting me up, he thought he'd met me before, maybe he was just happy to see someone wearing a Bloodshot records t-shirt.
Scott had like four huge amps, a bunch of pedals he didn't have time to set up, a harmonica, his amplified foot stompin' platform, and two guitars. Bob Log had just this little tiny Vox amp but he was hooked into the house PA for his effects. He had two drum machines and at least one pedal switch plus of course his kick drum and kick cymbal.
My neighbor was there, though he didn't invite me to sit at his table with his posse. He was possibly there to see Scott, but Bob Log had the most fans. If you are a fan of live music you really owe it to yourself to see both these guys before you die. Scott H. Biram of course can not be killed.
I wish my guitar teacher in China could see Bob Log play, he'd hand in his Joe Santriani fan club card right away. I wish Marlene Lau would have at least went to some shows with me, I'm still not sure why we are not still friends…
Scott ended his set with a new song called "I'm still drunk, still crazy, and still blue." I'm usually two out of those three things myself, occasionally all three.
Further Thoughts
While watching the show the phrase "unholy cacophony" entered my mind. Then I just described the music in an email as:
Crazy stuff, seriously crazy but driving funky blues.
I'm not sure that is a sentence but describes things well none the less.
This entry was originaly posted on , it was last edited on and is filed under: The Arts and tagged: Bob Log III, Guitar, Scott H. Biram.