January 25th, 2013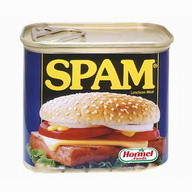 Some people like quotations. Some people collect quotations. Some people use the hashtag "quotation" to share quotations on social networks like Twitter. Some other people use #quotation to spam Twitter with ads for knickknacks. Zazzle.com a website I'd never heard of has been rewarding people for relentlessly spamming Twitter using the hashtag quotation as part of an advertising campaign for trinkets. To quote Chuck Palahniuk:
You are not your fucking khakis.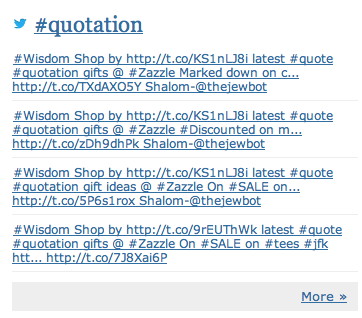 This has been going on for an extended period of time. I asked them to stop on Twitter but the folks behind @zazzle and the following accounts don't care about the people who use Twitter to share quotations:
It appears people also spam #quotation to try and get you to buy from Amazon.com too. 100's of near identical tweets tagged #quotation have been made by the above the accounts in the last few days. Not one of the tweets actually contained a quotation.
@13quotations retweets most anything tagged #quotation including spam. Associated with the spam accounts are the following other Twitter accounts:
And the following URLs:
GreatSouthernWritersSyndicate.com
ShoeShies.com
LondonsTimes.us
LoveQuoteGifts.com
RickLondonOrganics.com
Don't support spammers!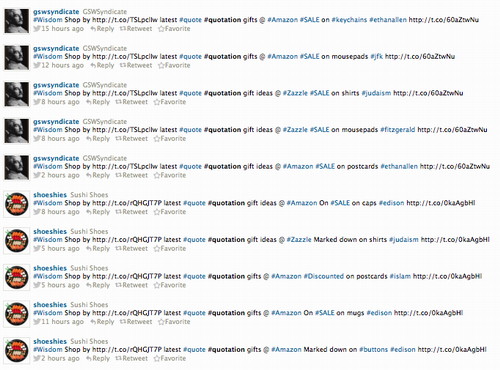 Rick London and Lee Hiller-London are a married couple who apparently enjoy spamming Twitter and fans of quotations.
Rick London is the creator and founder of London's Times and Panel Hollywood Cartoons. He creates all concepts and writes all text. He was born in Hattiesburg, MS and now makes his home in Arkansas. He has worked as a standup comedian, a playwright and tv/radio producer in Washington, D.C., New York, and Los Angeles.
Other domains in Rick's empire include:
RickLondonCollection.com
LTSuperstore.com
ShoesThatAmuse.com
Lee Hiller "who is (according to Google) America's favorite Love Columnist" has additional Twitter accounts:
And the following domains:
LeeHiller.com
LeeHillerDesigns.com
ABlondeWithABrand.com
HikeOurPlanet.com
The technical contact for those domains include:
Benjamin Cohen : info@gswsyndicate.com
Richard Stetelman : rick@londonstimes.us
Aimee Foyil : aimee.foyil@yahoo.com
Eli Zbar is apparently a student in Vancouver with aspirations to become a professional spammer. His website (www.elizbar.com) is temporarily unavailable.
Please help me to encourage Rick London and Lee Hiller-London to stop spamming #quotation so it can go back to being used by fans of quotations to actually share quotations on online social networks such as Twitter.
Zazzle.com and Amazon.com are rewarding these spammers with a means to monetize their spam. Twitter has mechanisms to fight spam, I will be reporting theTwitter accounts listed above for spamming. I encourage other fans of quotations to do the same.
Update
I'm not the only one who has had issues with hashtag spam. Apparently major conferences have been overrun with deliberate and often pornographic spam. This spam isn't pornographic but it is repetitive, unwanted, and has overwhelmed a previously useful hashtag for finding quotations.
Hi @muskiemckay! Please know it's not intentional. We're a platform for individuals to create for sale. We'll see what we can do, though!

— Zazzle Inc. (@zazzle) January 29, 2013
But Wait There is More
It took a while, over a year but the Great Southern Writers Syndicate appears to have noticed this post. They, perhaps Benjamin Cohen, claim they are not in fact spammers. So I give you the Twitter Terms of Service. From there you can find the Twitter Rules where you will find under the heading "Abuse and Spam" the following:
Serial Accounts: You may not create multiple accounts for disruptive or abusive purposes, or with overlapping use cases. Mass account creation may result in suspension of all related accounts. Please note that any violation of the Twitter Rules is cause for permanent suspension of all accounts.
Spam: You may not use the Twitter service for the purpose of spamming anyone. What constitutes "spamming" will evolve as we respond to new tricks and tactics by spammers. Some of the factors that we take into account when determining what conduct is considered to be spamming are:

If your updates consist mainly of links, and not personal updates;
If a large number of spam complaints have been filed against you;
If you post duplicate content over multiple accounts or multiple duplicate updates on one account;
If you post multiple unrelated updates to a topic using #, trending or popular topic, or promoted trend;
If you post misleading links (e.g. affiliate links, links to malware/click jacking pages, etc.);
The above accounts were all created in order to send multiple duplicate tweets to select hashtags consisting of links not personal updates. None of them contained actual quotations, but instead links to nicknacks for which they would collect an affiliate commission if a sale was completed. I tracked down the actual people and accounts behind the bot accounts and wrote this post after they repeatedly ignored mine and other pleas to stop spamming hashtags.
I am not the only blogger to take exception to the spamming of hashtags. It is against the Terms of Use of Twitter, but it is not in Twitter's best interest to kick off all spammers and bots, just the worst offenders. Twitter would rather reform companies and individuals and get them buying advertisements. I worked in IT for far too long, I have zero tolerance and sympathy for spammers. If years later they wish to hide their spammer past, well too fucking bad.
This entry was originaly posted on , it was last edited on and is filed under: Information Technology, Marketing and tagged: Lee Hiller-London, Quotations, Rick London, Spam, Twitter.