November 24th, 2013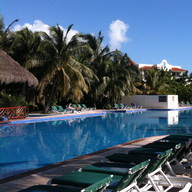 I was actually down in Mexico for a series of meetings, it just so happened the meetings were at the El Dorado Royale resort in the Riviera Maya. It was regarded as a really good trip by everyone I talked to, though some like me probably ate and drank a little too much, but I think that is par for the course for these all inclusive resorts. Even our lunch somedays was four courses which included of course, dessert. The executive chef was from France, there was no way he was going to let anyone serve a substandard Crème brûlée.
This resort was part of the Karisma Hotels franchise, but this particular hotel had a number of sister hotels in the area. They have plenty of marketing material online and no shortage of English speaking staff. I just decided to do a quick blog post to show off some of the pictures I took. I was generally in meetings all day so I never got to lounge by the pool or beach much, but I did get to eat and drink when our meetings were done for the day. Some people need to watch how many 'free' tequilas they consume, but the worst thing that happened to me was tweaking my knee.
My Facebook status update when I got back was "Home for a rest".
My big regret is I didn't have time to go see any Mayan ruins. If you have thoughts on traveling to Mexico particularly Cancun you can leave a comment below. I will go back to Mexico again some day but I've actually travelled extensively in China.
This entry was originaly posted on , it was last edited on and is filed under: The Good, The Bad, & The Ugly and tagged: #CWTOM2013, Beach, Mexico, Photos, Travel.